Posted by: Loren Coleman on December 12th, 2006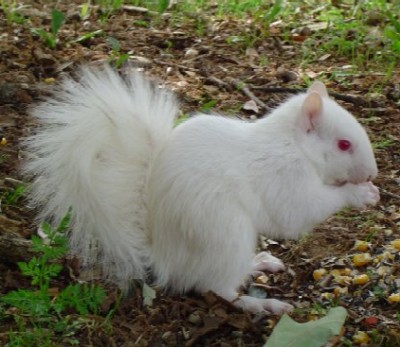 The Once And Future University of North Texas White Squirrel.
A Cryptomundo correspondent at Princeton University just passed this along:
I see that your salt-and-pepper squirrel article made the # 1 spot (always reserved for cute critter pictures) on The 9 at Yahoo.Com. — my absolute favorite, must-watch M-F wrapup of the weird and wonderful on the World Wide Web:
Vote For #1 = "Salt & Pepper Squirrels"
Now you've really arrived, my man! Congratulations!
I appreciate this. Actually, the readers at Cryptomundo are the keys to our success. Thank you all for visiting, reading, and voting us Number #1, across the board, from albino squirrels to Bigfoot – even without polls.
BTW, of course, Yahoo is referring back to our 2006′s Top Ten White & Black Squirrels Hot Spots.
One of Washington State's Melanistic Squirrels, perhaps a former Canadian? (See what I mean by this in the link right above.)
Loren Coleman – has written 5489 posts on this site.
Loren Coleman no longer writes for Cryptomundo. His archived posts remain here at Cryptomundo.