Posted by: Loren Coleman on November 5th, 2008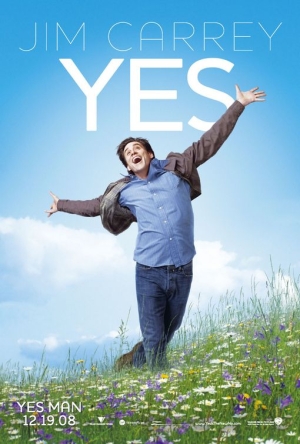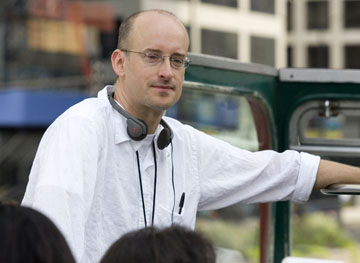 I personally know Peyton Reed (above), the director of the new movie Yes Man (starring Zooey Deschanel – below – and Jim Carrey). Few are aware that Peyton is a big fan of cryptozoology. But now a strange lawsuit that only marginally involves his next project has brought out into the open a Bigfoot presence in his forthcoming December '08 film.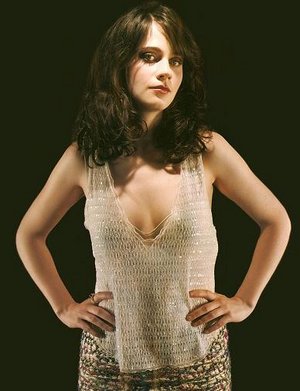 But, oh, boy, did anyone see this kind of lawsuit coming?
According to an article, "California Group Sues Big Foot Lodge Owner" by Andy Meek in The Daily News, Memphis, Tennessee, I think people will be surprised to know that there is the hint of Sasquatch in Reed's newest movie.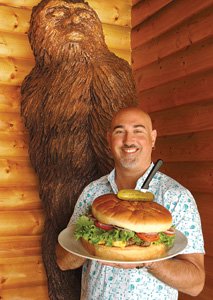 There's the Beef: Big Foot Lodge co-owner Shawn Danko holds the Sasquatch Burger in front of his Downtown restaurant's Sasquatch statue. — The Memphis Daily News File Photo
A California-based restaurant ownership group has filed a trademark infringement lawsuit in U.S. District Court for the Western District of Tennessee against two Memphis restaurant owners who operate a similar restaurant concept here.

The lawsuit was filed Friday, according to The Daily News.

In the suit, the creators of The Bigfoot Lodge restaurant concept in California – which includes such interior features as a log cabin design and a large Sasquatch statue – claim husband and wife Shawn and Lana Danko inappropriately used the restaurant name and similar design elements, among other things, for the Big Foot Lodge restaurant and bar they opened in Memphis in 2005.

The Dankos' Big Foot eatery likewise includes a log cabin design and a large Sasquatch statue, among other similarities.

"I don't have a comment for you at this time," Shawn Danko told The Daily News when asked about the lawsuit Monday. "It just came over the wire today, so I couldn't comment for you at this point."

Larger implications

BA2 LLC is the entity that in 1999 opened The Bigfoot Lodge in California while at the time operating under the name The Bigfoot Lodge LLC. In the suit filed against the Dankos by BA2 LLC, a copy of a June 2005 Memphis Business Journal article is attached in which Shawn Danko says the inspiration for his own restaurant's name came from the California Bigfoot Lodge lounge and bar.

In an interview with The Daily News last year, Danko said his Memphis restaurant concept was developed over a period of several years. He said the idea grew in large part out of his fascination with the ape-like creature known as Big Foot.

"The Big Foot concept stems back to seven years ago now, when I was working at the Hard Rock Café," Danko said at the time. "It was a concept that I was slowly working on over time and it was a concept that I always kind of had in the back of my head."

Now the concept is at the center of a legal dispute whose plaintiff sees an opportunity for confusion to exist on multiple fronts. One of them involves a major Hollywood film scheduled to be released next month.

A full-sized replica of the Bigfoot Lodge's Los Angeles bar was built on a sound stage as the setting for some scenes in the film "Yes Man," scheduled to be released next month and starring Jim Carrey, according to the lawsuit. The suit also includes a message thread taken from the local Internet message board run by Goner Records.

"As one post on the Memphis-based message board hosted by Goner Records asks, 'Is this [Big Foot Lodge Memphis] associated with the Bigfoot in (Los Angeles and San Francisco)?? Anybody know?" reads the reference to the Memphis message board included with the suit.

"Another (Goner) user responds, 'Same thing, I think.' Plaintiff is informed and believes that once Warner Bros.' Jim Carrey movie 'Yes Man' opens nationwide on December 19, 2008, many more people will be actually confused into thinking that Defendants' Big Foot Lodge Memphis is associated with Plaintiff's Bigfoot Lodge LA and Bigfoot Lodge SF."
I look forward to seeing this apparent crypto-scene in Yes Man. My best wishes to Peyton and the wide success for his next motion picture!
Loren Coleman – has written 5489 posts on this site.
Loren Coleman no longer writes for Cryptomundo. His archived posts remain here at Cryptomundo.