Posted by: Loren Coleman on August 13th, 2009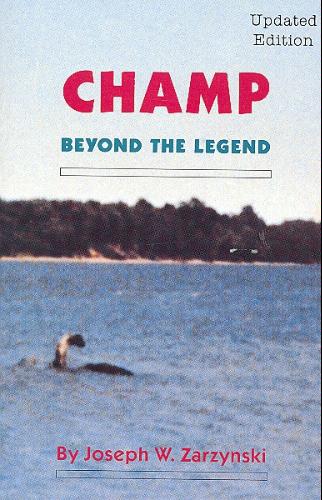 Longtime cryptozoologist, local author, Champ investigator and friend Joseph Zarzynski, known as "Zarr" to his close associates, has been briefly profiled in an upstate New York news column on August 13, 2009.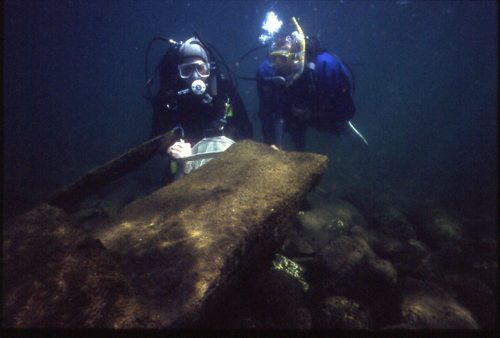 Underwater archaeologist Joseph W. Zarzynski (left) and Rensselaer Polytechnic Institute scientist John Wimbush (right) during the archaeological and biota survey at Lake George's 1758-built military wharf (photo credit: Bob Benway & Bateaux Below). The Bateaux Below is a group that finds, identifies and tries to protect and publicize the artifacts at the bottom of Lake George. The group recently created a DVD documentary about one of its finds, The Lost Radeau: North America's Oldest Intact Warship.
The life of a history major

Maybe it is closer to Indiana Jones than we thought. Just ask Joe Zarzynski.

He graduated from Ithaca College with a bachelor's degree in history in 1973. He became a high school history teacher and hunter of mythical underwater beasts. He searched for the Loch Ness monster, he hunted for Champ, Lake Champlain's own famed creature.

Then he turned his sights to sunken ships. He's found a bunch of them. But none perhaps more notable than the Land Tortoise, a ship that went to the bottom of Lake George in 1758. His team discovered it in 1990 and it became one of only six shipwrecks in the country to be named a National Historic Landmark. The 52-foot floating vessel is considered to be the oldest intact warship in North America.

It's currently the subject of a documentary, "The Lost Radeau," airing on PBS. Zarzynski has found a few more ships since then, including an early motorized ship from 1906.

Zarzynski eventually went back to school and completed his master's degree in archaeology from the University of Leicester in England. He said he's a lifelong student.
Reporter Scott Waldman of the Times Union quotes Zarynski as saying that even though he may be "an old fart," he has "tried to better myself."
Loren Coleman – has written 5489 posts on this site.
Loren Coleman no longer writes for Cryptomundo. His archived posts remain here at Cryptomundo.