Posted by: John Kirk on March 1st, 2008
Loren has written a truly wonderful summary of the life of Scott Norman, our mutual friend and fellow cryptozoological investigator elsewhere here at Cryptomundo. I and all of Scott's friends are deeply indebted to Loren for such a glowing tribute.
Scott and I had been friends for 10 years and as Loren has written, we were part of an expedition together to Cameroon in search of Mokele-mbembe. It was on this expedition that I obtained the measure of the man that Scott Norman was.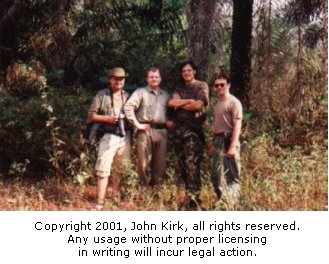 The 2001 Cryptosafari expedition members included (left to right) Scott Norman, Bill Gibbons, John Kirk, and Robert Mullin.
We had been corresponding with each other for three years before we actually met up in Paris with Bill Gibbons and Rob Mullin on our way to Africa. What struck me right off the bat was how quietly-spoken and genuinely humble Scott was. His humility was born of his strong and unwavering Christian faith. We had lots of conversations about that and I was really impressed by this man who lived what he believed.
Our trek across Cameroon to the Mokele-mbembe investigation site was one that was fraught with danger. I won't go into details here as there are too many, but suffice it to say, when the going got tough Scott Norman got going. He was always ready to help someone with their considerable pile of equipment even though he had brought more than anyone else did. You see, he was our electronics wizard and we would have been up the communications creek without a paddle without his ability to rig up a satellite phone system that enabled us to have a lifeline to the world outside the African jungle.
Scott and I were paired off on the canoe trips up various rivers and I knew that every second of the time he was watching my back as I was watching his. It was dangerous stuff as there are crocodiles in those rivers and Scott found that out first had when we believe one them snatched the transponder from our Hummingbird sounder as we headed south down one of the rivers.
I had an intuitive sense when I had earlier operated the transponder that I ought not to have wrapped the wires around my wrist. I conveyed this to Scott and so much was he a person who listened to the good advice of his peers that he did not wrap the wires around his wrist when it was his turn. I can remember the scene when suddenly the transponder was ripped out of Scott's hands and disappeared under the boiling surface of the river. Had the wires been wrapped around his wrist, Scott would have been pulled overboard and lost forever like the transponder.
There was another time on that expedition that Scott showed valour in the face of real adversity. Two traffickers in the illicit sale of African grey parrots, showed up at our camp with a shotgun and machete demanding beer and money. In the face of this, Scott never showed an ounce of fear as myself, Bill Gibbons and Rob Mullin grabbed our own bush knives and a few pygmy spears and suggested to these fellows that they were outmanned and they should leave before we overpowered them and had the local constabulary throw them in some dingy jail. All through this Scott was courageous and unshakeable.
Scott was also a man of compassion. We came to know a great bunch of Baka pygmies that Bill had hired and Scott took a huge interest in their lives, health and welfare. At the end of the expedition Scott started handing out a lot of his expedition gear to the pygmies because he saw their need was greater than his. This stared a chain reaction amongst the rest of us who were so impressed and encouraged by Scott's generosity.
After we came back from Africa, Scott spent years trying to get the attention of whoever would listen to the plight of the Baka. Through Cryptosafari he wanted people to donate money and medicines to groups in Africa who would make sure it got through to the Baka. To his dying day Scott wanted to go back to Cameroon to help the pygmies and also seek his beloved Mokele-mbembe.
Scott Norman was the kind of guy I would trust with my life, my money and my family. I knew he would never ever let me down in life and he never did. His integrity was something that shone through to all who met him. His faith was like a beacon in the darkness and his love of humanity was reflected in all the service work he did for his community and his church.
Just a week before he died he emailed and called me about wanting to go back to Africa and also New Guinea to conduct expeditons for the Ropen. He was about to start seriously planning these excusrions when he was struck down in the prime of his life. Scott was a godly man and today two of the great mysteries of the universe he enquired about have been answered. He always wondered what the biblical heaven was like and whether dinosaurs really roam the earth today. Scott Norman, man of peace, man of the people, knows those answers now.
As his friend I will miss him for the rest of my days. As one who shared many of his beliefs and philosophies I know we will encounter each other again. In the meantime, I want all who hear of Scott Norman to know that he was more than an ace cryptozoological researcher, he was powerful, loving, kind, gentle, and considerate human being. The world is less of place without his presence amongst us.
Scott, my friend, enjoy the rest you have deservedly earned and know you legacy will never ever be forgotten by those you affected in such a real way.

About John Kirk
One of the founders of the BCSCC, John Kirk has enjoyed a varied and exciting career path. Both a print and broadcast journalist, John Kirk has in recent years been at the forefront of much of the BCSCC's expeditions, investigations and publishing. John has been particularly interested in the phenomenon of unknown aquatic cryptids around the world and is the author of In the Domain of the Lake Monsters (Key Porter Books, 1998). In addition to his interest in freshwater cryptids, John has been keenly interested in investigating the possible existence of sasquatch and other bipedal hominids of the world, and in particular, the Yeren of China. John is also chairman of the Crypto Safari organization, which specializes in sending teams of investigators to remote parts of the world to search for animals as yet unidentified by science. John travelled with a Crypto Safari team to Cameroon and northern Republic of Congo to interview witnesses among the Baka pygmies and Bantu bushmen who have sighted a large unknown animal that bears more than a superficial resemblance to a dinosaur. Since 1996, John Kirk has been editor and publisher of the BCSCC Quarterly which is the flagship publication of the BCSCC. In demand at conferences, seminars, lectures and on television and radio programs, John has spoken all over North America and has appeared in programs on NBC, ABC, CBS, PBS, TLC, Discovery, CBC, CTV and the BBC. In his personal life John spends much time studying the histories of Scottish Clans and is himself the president of the Clan Kirk Society. John is also an avid soccer enthusiast and player.