November 24, 2014
Tek tek, the yeti of Cambodia
From Dr. Meldrum:
A colleague brought this to my attention. He is working up a review of the lore about relict hominoids in s.e. Asia, especially Myanmar, for the RHI (Relict Hominoid Inquiry).
~ Dr. Jeff Meldrum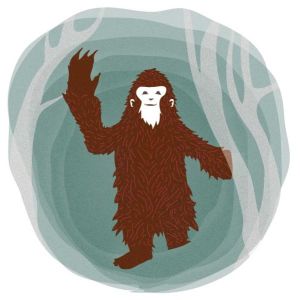 The tek tek, with its two legs and rough reddish fur. David Pinho
It was a loud evening deep in the jungle, the crickets, frogs and odd cicadas were busy playing their usual nighttime symphony. A group of trekkers were getting ready to bunk down for the night.
"My friend was zipped up in his hammock and beginning to doze off, when he noticed that all of the insects had stopped making sounds: the jungle went completely silent," said Greg McCann, a field coordinator for HabitatID, a conservation group working in Virachey National Park, where the trekkers were camping.
A few moments later, a horrid smell engulfed the camp – the trekkers all emerged from their tents to find its source. A minute after that, the smell had gone and the insects and frogs returned.
"The next morning the rangers refused to discuss the issue and wanted out of the park ASAP," retold McCann. "My friend assumed they thought it was a ghost."
All over the globe, stories abound about mysterious creatures that live in remote, often mountainous areas. The legendary Himalayan Yeti, North America's Sasquatch, the Vietnamese nguoi ung, Australian yowie and Indonesian batatut have intrigued explorers and terrified children for generations.
It was Cambodia's answer to the myth, the tek tek, that the rangers believed was lurking that night in Virachey, which covers Ratanakkiri and Stung Treng provinces.
Said to live in the far northern parts of the national park, the tek tek – according to a series of accounts that vary from person to person – is a frightening and bizarre creature to behold.
Read the rest of the story here.
About Craig Woolheater
Co-founder of Cryptomundo in 2005. I have appeared in or contributed to the following TV programs, documentaries and films: OLN's Mysterious Encounters: "Caddo Critter", Southern Fried Bigfoot, Travel Channel's Weird Travels: "Bigfoot", History Channel's MonsterQuest: "Swamp Stalker", The Wild Man of the Navidad, Destination America's Monsters and Mysteries in America: Texas Terror - Lake Worth Monster, Animal Planet's Finding Bigfoot: Return to Boggy Creek and Beast of the Bayou.
Filed under Bigfoot, Bigfoot Report, Cryptozoologists, Cryptozoology, Evidence, Expedition Reports, Eyewitness Accounts, Folklore, Pop Culture, Sasquatch, Yeti