Posted by: Guy Edwards on March 27th, 2011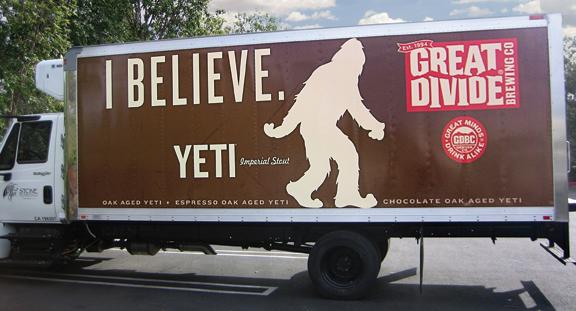 This is the brainchild of Cultivator Advertising and Design. They are promoting 3 different beers for their client, Great Divide Brewing Company. These giant trucks are meant to publicize the craft brewer's Yeti Imperial Stout, Oak Aged Yeti, Espresso Oak Aged Yeti and Chocolate Oak Aged Yeti. This message is on trucks that belong to third-party distributors in Colorado, California and North Carolina.
Checkout the promotional materials for all three Yeti flavors at Bigfoot Lunch Club.com

About Guy Edwards
Psychology reduces to biology, all biology to chemistry, chemistry to physics, and finally physics to mathematical logic. Guy Edwards is host of the Portland, OR event HopsSquatch.com.