Posted by: Ken Gerhard on January 16th, 2016

40th Anniversary of the scariest documented encounter with Texas' Big Bird! It occurred just north of Raymondville in Willacy County. On the evening of January 14th, 1976, twenty-six year old Armando Grimaldo was having a cigarette on his mother-in-law's porch. His estranged wife Cristina was sleeping inside the house at the time. As Armando would later put it, "I heard a sound like the flapping of bat like wings and a funny kind of whistling. The dogs in the neighborhood started barking. I looked around but I couldn't see nothing. I don't why I never looked up. I guess I should have, but as I was turning to go look over the other side of the house, I felt something grab me, something with big claws. I looked back and saw it and started running. I've never been so scared in my whole life."
Armando described his assailant as having a ten to twelve-foot, bat-like wings with dark, leathery, featherless skin and a monkey-like face with large red eyes. He did not recall a beak. As he attempted to flee from his attacker, Grimaldo could feel its claws grasping and then tearing his jacket and shirt. In desperation, he dove down onto the ground and crawled on his belly until he was under a bushy tree. The traumatized man could hear the creature's heavy panting, as it flew off into the night. Soon after, his neighbors found him screaming and shaking in his back yard. Armando reportedly was in shock when Cristina called the police a little later. When help arrived on the scene, he was repeatedly mumbling the word pajaro, which is Spanish for bird. He was then taken to Willacy County Hospital, where it was determined that he had escaped any real injury. However, Grimaldo did remain bed ridden for two days after the incident. (From Big Bird: Modern Sightings of Flying Monsters by Ken Gerhard).
Note that Grimaldo's physical description bears little resemblance to any bird… creating speculation that the animal was actually an unknown species of gigantic bat, or perhaps a living pterosaur.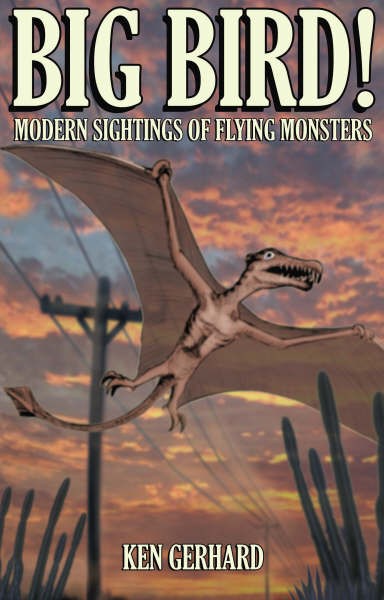 About Ken Gerhard
Ken has investigated reports of mysterious beasts around the world including Bigfoot, the Loch Ness Monster, the Chupacabra, giant winged creatures and even werewolves. In addition to appearing in three episodes of the television series Monster Quest (History Channel), Ken is featured in the History Channel special The Real Wolfman, as well as Legend Hunters (Travel Channel/A&E), Paranatural (National Geographic), Ultimate Encounters (truTV) and William Shatner's Weird or What? (History Television). His credits include multiple appearances on Coast to Coast AM, major news broadcasts and Ireland's Newstalk radio, as well as being featured in major books and in articles by the Associated Press, Houston Chronicle and Tampa Tribune. Ken is author of the books Big Bird: Modern Sightings of Flying Monsters and A Menagerie of Mysterious Beasts: Encounters with Cryptid Creatures, as well as the co-author of Monsters of Texas (with Nick Redfern) and has contributed to trade publications including Fate Magazine, Animals and Men, The Journal of the British Columbia Scientific Cryptozoology Club and Bigfoot Times. He currently lectures and exhibits at events across America. Born on Friday the 13th of October, 1967 (exactly one week before the famous Patterson Bigfoot film was shot), Ken has traveled to twenty-six different countries on six continents and most of the United States. An avid adventurer, he has camped along the Amazon, explored the Galapagos, hiked the Australian Outback and has visited many ancient and mysterious sites, from Machu Pichu to Stonehenge.