Posted by: Nick Redfern on June 30th, 2012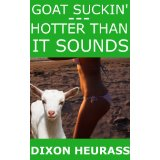 For fans of crypto-fiction, brace yourself. There's a new title on the Chupacabras available…
Its title: Goat Suckin': Hotter Than It Sounds by, ahem, Dixon Heurass. Think about that name, say it fast, and you'll get it (so to speak)…LOL
Well, what can I do but share with you the details of the blurb for the book?
"Doug meets a beautiful Latina lab assistant while on site in Mexico. But, the excursion isn't all making out and holding hands. Something is killing the local livestock and draining their blood. Legends speak of an elusive beast: the chupacabra. But Doug is sceptical. Can Doug save the day and get the girl? Read on to find out! This book contains scenes of horrific monster sex."
Indeed, we are told of the author: "Dixon Heurass is a paramedic and volunteer fireman who's so randy he had to find release writing dirty stories."
And there's really not much more I can add to that!

About Nick Redfern
Punk music fan, Tennents Super and Carlsberg Special Brew beer fan, horror film fan, chocolate fan, like to wear black clothes, like to stay up late. Work as a writer.