Posted by: Nick Redfern on June 2nd, 2012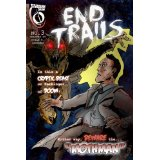 I haven't seen this title yet, but if you're a disciple of all-things of a Mothman nature, then doubtless you'll want to add it to your collection!
It's a recently-published graphic-novel written by Brian Osbourn, titled End Trails, and has the glowing-eyed winged-thing in a starring role.
And here's the book-blurb which provides a taster to what it's all about:
"The Mothman! From the creepy tales of a half-man/half-bird creature with glowing red eyes to the strange circumstances of a devastating bridge collapse, former superheroes-turned-FBI Agents Dietrich and Harper are on the case as bodies pile up in the small town at the heart of the mystery. But is the killer a supernatural cryptid lurking in the shadows or is there a much more human explanation? One way or another, the agents are about to find out, but even they may not be able to stop the revenge of the Mothman!"
If that has reeled you in, here's where you can purchase your very own copy.

About Nick Redfern
Punk music fan, Tennents Super and Carlsberg Special Brew beer fan, horror film fan, chocolate fan, like to wear black clothes, like to stay up late. Work as a writer.