Posted by: Loren Coleman on September 14th, 2008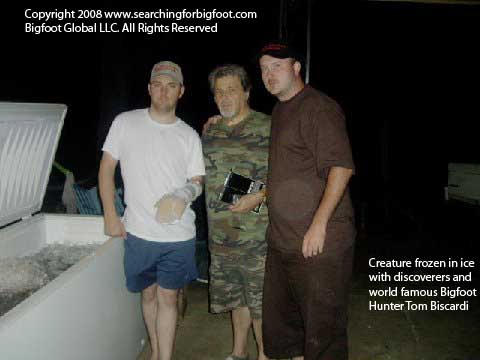 The Ultimate Georgia Bigfoot Hoax Timeline: 2008
This continues the timeline from 1958-2007, as previously noted here.
2008 – January & March – Steve Kulls admits later that he is a Biscardi employee for these two months. (SK)
2008 – June 10 – Using a fictional date "reconstructed" by Steve Kulls (SK), a Bigfoot body is allegedly discovered by Matt Whitton and Ric or Rick Dyer in northern Georgia. Dyer later tells Steve Kulls on the Internet radio show that it took them a day and a half to carry it out with six men. According to their story, Whitton sat with the body overnight while Dyer went to get the help. Also according to their story, on their way out of the woods, they were followed by several other Bigfoot creatures, which they managed to film. Kulls will introduce the pair to Tom Biscardi, according to blogger D. B. Donlon (DBD) and others.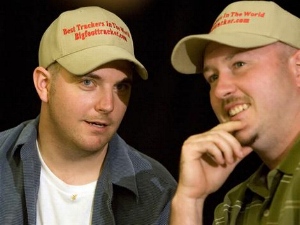 2008 – June 16 – Someone registers the domain name "bigfoottracker.com" and Steve Kulls claims it is Matt Whitton and Rick Dyers who have created the site.
2008 – June mid-late – Videos begin to appear on YouTube under the name of RDYER678. In one or more of these videos, it is claimed that an associate of theirs killed the Bigfoot with a 30.06. This person is not named, but described as "a felon." (DBD)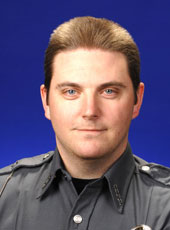 2008 – July 3 – Matthew Whitton is wounded in the wrist while allegedly struggling with a robbery suspect in some woods behind a Kroger's in Clayton County, Georgia, according to Clayton County Daily News and Atlanta television stations.
2008 – July 4-5 – Whitton is given heroic media coverage and placed on medical leave by the Clayton County Police Department.
2008 – July 9 – Whitton states on a YouTube video that they've recovered a Bigfoot "corpse." Whitton is released from hospital after being shot. (SK)
2008 – July – mid month – Videos continue to be posted on YouTube. Many of these videos begin to have a derogatory slant in regard to other Bigfoot researchers. (DBD) Matt Moneymaker, Loren Coleman, and Jeff Meldrum are frequent targets.
2008 – July 23 – Two news stories appear in the Clayton County Daily News about the alleged body. Also on this day, Whitton and Dyer hold a press conference for local media, trying to drum up interest in their story. (DBD)
2008 – July 25 – Steve Kulls issues a "challenge" to Whitton and Dyer to come on his Internet radio show. (SK)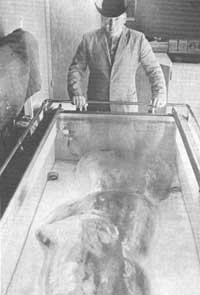 Frank Hansen and the Minnesota Iceman appear to have been a less-than-subtle model for the Georgia Bigfoot hoax.
2008 – July 28 – Rick Dyer appears on Steve Kulls' radio show. During the show, he gives a description of the body that includes a height of eight feet, eight inches, and the fact that, if you were to shave the creature and put a hat on it, you would not be able to distinguish it from a human being. During the show, Dyer says the pair would welcome only three Bigfoot researchers to their location — Steve Kulls, Tom Biscardi, and another individual (CH) who has little to do with this fiasco other than to have been trying to seriously investigate it.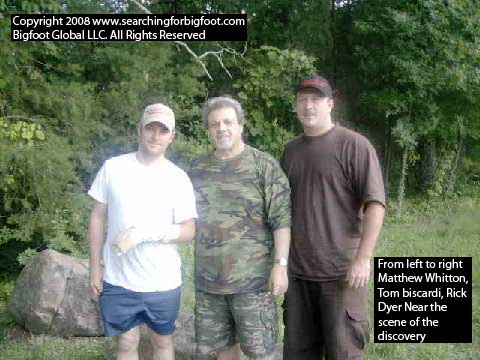 Dyer says that the evidence they have will be revealed on September 1, 2008. Dyer asks Kulls to call him. Dyer asks who is Tom Biscardi. 
Kulls puts Biscardi in contact with Dyer and Whitton. (DBD, SK)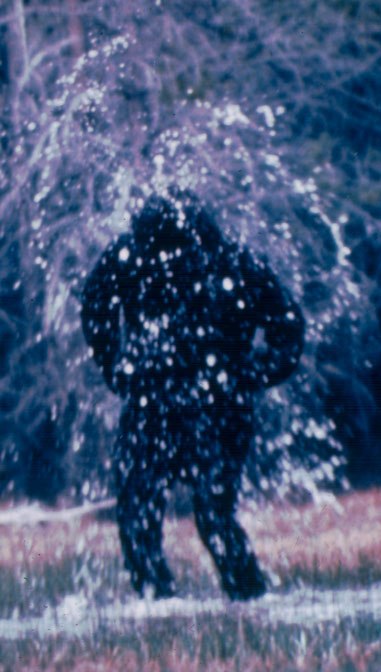 Tom Biscardi's "Amazing Horizons" company repackaged and disseminated Ivan Marx's "Bigfoot" (fake) footage for years. He is considered by many to have been allegedly linked to numerous hoaxes.
2008 – July 29 – Kulls calls and thanks Dyer for being on his radio show. Biscardi tells Kulls that Dyer stated they sold the "corpse" to the National Enquirer. (SK)
2008 – July 30 – Kulls finds out that Whitton and Dyer did not sell the "body" to National Enquirer, and an attorney mentioned on the radio show knows nothing of a Bigfoot body. Biscardi calls me and tells me Dyer and Whitton want him to deal with the body exclusively. Both Whitton and Dyer appear on Biscardi's separate Internet radio show. (SK)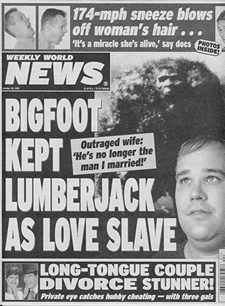 2008 – July 31 – Kulls calls Biscardi's Searching for Bigfoot (SFB) VP Bob ("JavaBob") Schmalzbach and he tells him that he thinks this is a con. He needs to talk to Biscardi. JavaBob tells Kulls to call him. (SK)
2008 -August 1 – Allegedly the date on which Biscardi flies to Georgia to obtain the tissue sample for DNA testing. (DBD)
Kulls says he calls Biscardi to tell him of some revealing information about Dyer and that Kulls believes indicates he is a "con." Biscardi says, Kulls reports, that he'll get to the bottom of it. Biscardi asks Kulls to write an interim contract for obtaining the body or something from Whitton and Dyer. (SK, DBD)
The words "for entertainment perposes (sic) only" are noticed for the first time on the site. At about this time, videos begin disappearing from the YouTube site. (DBD)
2008 – August 2 – Biscardi calls Kulls and says that he was "Right there when the DNA was cut from the body." States to Kulls: "This thing has incredibly thick skin" (SK)
Biscardi reveals later that he did not extract the sample from the body on this date, as he at first implied. Instead, he says later that Whitton and Dyer meet him in an "Atlanta hotel lobby" and hand him the sample. (Media reports)
There is a video up on the YouTube site briefly that talks of Biscardi taking the DNA sample, but it is soon removed. (DBD)
2008 – August 4 – Kulls says the contract he authored for Biscardi states Kulls is the introductory party and thus his only involvement. The tissue sample for DNA testing is being hand delivered to Dr. Curt Nelson. (SK)
Steve Kulls announces on his radio show that there is a "gag order" on the news of the Bigfoot body, so that he cannot talk about it. (DBD)
2008 – August 9 – Biscardi told Kulls that the next day Biscardi would be taking measurements, and taking pictures. (SK) (These statements seem less that truthful, later.)


2008 – August 10 – Biscardi describes the body to Kulls, telling him about the eyes, the teeth, and genitalia. 
 (SK)
Biscardi calls many different people, around the country, for the first time, excitedly telling of having seen the body, and claiming this is a real "body." Says the feet show it is a humanlike being, not an apelike creature. (LC)
Biscardi generates wild rumors that the filming of the autopsy of the "body" is being sold for 11 million dollars, that two Russians are flying in to conduct the autopsy, and that other side deals or contracts are in the works.
2008 -August 11 – Biscardi forwards Kulls an email from Dr. Curt Nelson stating the DNA amplification size was consistent with human/ape and was going to be sequenced. 
(SK)
Dyer (and Whitton?) post a YouTube video with a flash of a black and white image of the "body in the box," picture of Biscardi near the freezer, and text noting they are working with Biscardi now. Dyer and Whitton claim to have passed DNA on to Biscardi.
The screen capture of this image is posted at Cryptomundo, as a "leaked photo" of the "body." The YouTube video is withdrawn later when it is realized the image is recognized as the alleged body.
2008 – August 12 – Biscardi calls Loren Coleman, and emails color photograph of body in the box, for embargoed release on Friday, August 15. Then Biscardi sends the press release, which Cryptomundo posts as it was noted for broad release. Loren Coleman expresses "skeptical optimism" in hopes perhaps he can share a photograph and make it more available for analysis for more analysis. Others express optimism. (LC, DBD)
After receiving complaints from Biscardi that Coleman or others might be the source of leaks of the photo, Coleman calls Biscardi, to tell him that, indeed, it is Barrows and Biscardi who are the source of the leaks through their own website. Coleman informs Biscardi that he is in the process of writing a blog that will post the photo to the Cryptomundo website immediately, because Biscardi's own organization has prematurely released it themselves. Coleman posts the "body in a box" and prepared enlargements and enhancements at 9:29 pm Eastern, and the hits increase into the millions shortly.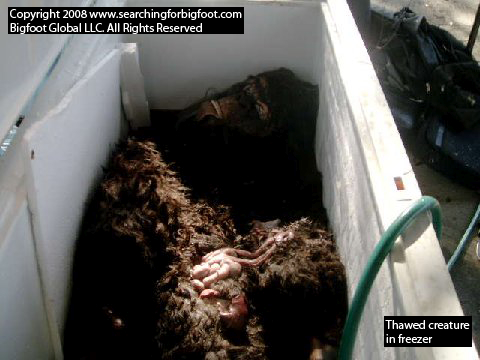 Within minutes, Cryptomundo readers (e.g. "Ryan Thrash") sends evidence of the costume by Chuck Jarman, which is the source of the "body" in the box. That information is posted by 9:40 pm Eastern, but because the site is crashing so often, few see the revisions immediately.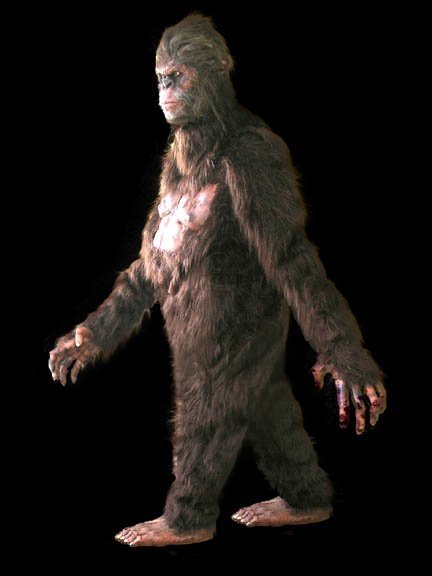 Also Tuesday, William Parcher on the JREF forum (at first without identifying the maker of the costume), Matt Moneymaker on the BFRO forum, and various (anonymous) people at the BFF do post varied exposures of the costume as keys to the hoax pour in. Overnight, Loren Coleman appears on Coast to Coast AM to express caution about this developing story because of the history of Biscardi and the costume info.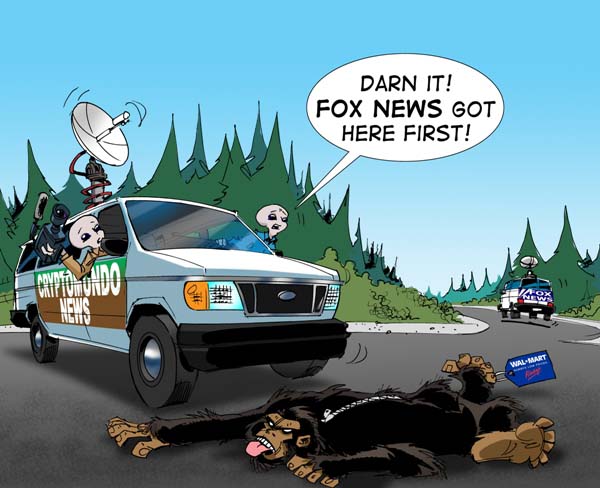 2008 – August 13 – The national media ignores the costume developments, instead going ahead with the interest in the Friday news conference. Biscardi goes on the morning Fox News, showing the "body in a box" photo, and promising the host she can be the first one to go "touch the body" next week.
Kulls says he is given a picture of the alleged corpse for the first time. Biscardi asks Kulls why "would [he] drop 50 large if this wasn't the real thing; I saw it." 
 (SK)
2008 – August 14 – Kulls says he wasn't shown comparisons of pictures to costume, until this date, two days after they appeared. Kulls says he relates this to Biscardi, who says he saw it and says that "it's not a costume; it's the real thing." When Kulls hears the "corpse" is in transport, he buys his plane ticket. 
 (SK)
2008 – August 14 – William Wald Lett Jr. of Eaton, Indiana, says he met Matt Whitton and Rick Dyer in the Clayton County (GA) Justice Center parking lot. The two men signed a "transfer release agreement" to sell the frozen remains of Bigfoot. Lett said he handed over $50,000 in cash. Lett said he then followed the two men to a house on nearby Poston Road, where another person was "standing guard" over a freezer that held the alleged remains. Lett said the freezer containing a frozen, furry "carcass", which weighed almost a ton, was loaded onto a trailer towed by his GMC Yukon Denali. Lett and Biscardi associates then drove it back to Indiana. (Court documents, AJC)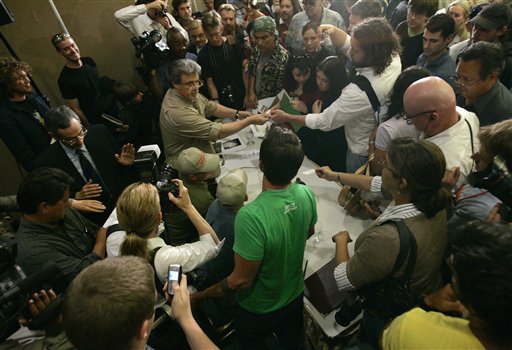 2008 – August 15 – "Bigfoot Friday" Biscardi, Whitton, and Dyer hold a press conference in Palo Alto, California. The DNA results that are "released" and "read" by Biscardi are inconclusive and confusing, while the two pictures released do not show anything compelling either. Biscardi is abrupt and confrontational with the media, at one point saying that he wanted to get, as much money as possible and saying Jeff Meldrum "wasn't an anthropologist." (LC, DBD)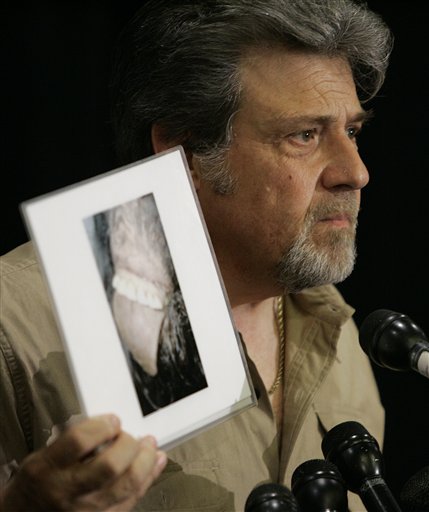 Whitton talks more than Dyer, and says that Biscardi is now in possession of the body. Whitton describes how they came across "corpse" (which is different that two earlier stories). Whitton says he was never interested in Bigfoot, (which conflicts with early storytelling about how wanted to hunt Bigfoot as a kid). Biscardi states he touched it, smelled it, and felt it in the midst of other statements, which turn out to be mistruths. (CNN, BFRO, DBD, LC)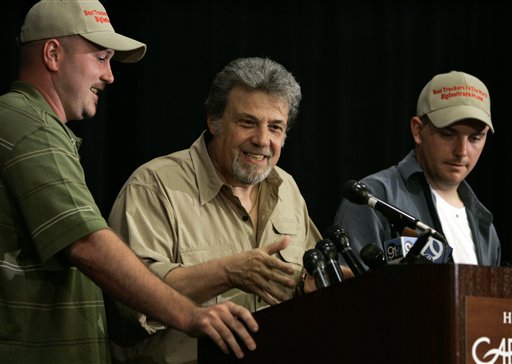 Kulls arrives at the Indianapolis airport at 4:10PM EST. Kulls is driven to location in Indiana, outside of Muncie in a rural community. There are no televisions, however he sees a few snippets of Whitton on a computer from his appearance at the press conference. (SK)
Whitton and Dyer appear on MSNBC at around 8:50 pm Eastern on "Countdown" and say about the same things they had said at the noon Pacific Time news conference. Dyer mentions that he wants to get as much money as possible from "the Bigfoot body."
The general reaction of the media, the press, and the blogs, as the night wears on, is skeptical and they are insulted by Biscardi's behavior at the press conference. Most members of the media thought they were going to be presented with proof of Bigfoot, not blurry photos, stories, and DNA results stating that human and opossum tissue had been proven found.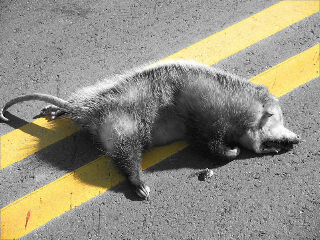 2008 – August 16 – In Indiana, through the use of heaters, the ice around the "body" melts to where Kulls takes a hair sample, burns it and it balls up like as an artificial fiber might. (Kulls, AJC)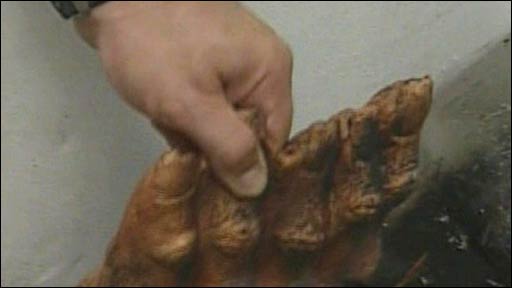 Johnson, Biscardi's son, and JavaBob begin to speed-thaw the ice using a salamander or turbo heater, and eventually pull a rubber foot out. Biscardi is called, told about the find, and Kulls describes him as unusually calm about it. (SK)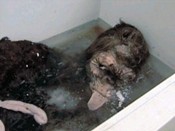 Biscardi allegedly calls Kulls (two of the crew and investor are not present at the time) and he allegedly tells Kulls that he wants to fill the freezer up with water, freeze it, and release it back to Whitton & Dyer. Kulls recalls that Biscardi said that then Whitton and Dyer would make a statement that the public pressure was too much on them and they took their body back. Biscardi would then place a gag order on it, and never speak of it again. Kulls says he staunchly objects and would not participate in it. 

 (SK)
Next, Kulls says he talks with Whitton to return the money. Whitton states they don't have it and they only want to deal with Biscardi. Biscardi calls Kulls back and claims that Whitton & Dyer will sign a promissory note and a confession the next morning before they leave for home. Kulls says he draws up the documents. (SK)
2008 – August 17 – Whitton and Dyer left before their scheduled meeting with Biscardi. Biscardi wants press there to expose it as a hoax, but no one in the press wants to let him on the air. Kulls remains in Indiana, and is asked to prepare a statement. (SK)
2008 – August 18 – Bob Schmalzbach revises the Biscardi-Kulls joint statement, and removes many of the separation items in the statement.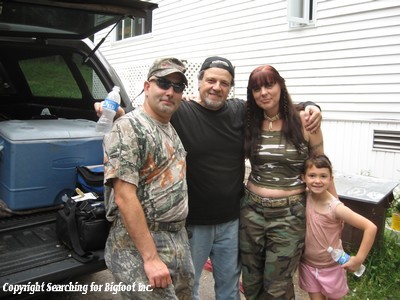 Kulls' Squatchdetective Radio promises an "important statement," and keeps listeners waiting for him announce the hoax at 10:10 PM. He times it to be co-broadcast with the footage of the rubber feet and costume being thawed out of the ice being broadcast by a local Fox News television station. Kulls is evasive in his answers, and his connection to Biscardi. The phone-in listeners are not happy with Kulls, Biscardi, Whitton, and Dyer.
Kulls says he was doing the live-feed while in the presence of Biscardi's son and others in Biscardi's crew. He says, "If I agreed on the lying at that point it could have risked me physical harm." (SK)
2008 – August 18 – Matt Whitton and Rick Dyer appear on WSB-TV and admit their roles in the hoax.
2008 – August 19 – Matt Whitton, 28, is fired after six years with the department because of his involvement in the hoax, police Chief Jeff Turner says. Dyer, 31, worked at three state prisons, according to Georgia Peace Officers Standards and Training Council records. However, he now drives a truck for Big Foot Towing Co. and sells used cars over the Internet.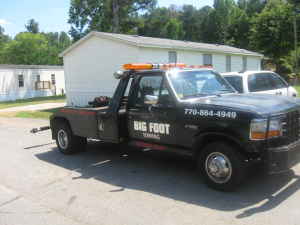 2008 – August 19 – Morning news on Fox and other media outlets broadcast the "costume" from the ice footage, and/or tell of the hoax.
2008 – August 20 – Whitton and Dyer state that Biscardi and Kulls coached them. Kulls issues a statement denying the coaching, and coming clean about the above July-August involvements. Kulls says he never met them and has not been to Georgia this year. (YouTube, SK)
2008 – August 21 – Kulls appears on Fox and Friends at 6:50 am Eastern and reveals what he calls "the deceptions of Tom Biscardi," and how he believes Biscardi was "complicit in the hoax based upon the DNA email and statements made" to Kulls. (SK)
2008 – August 21 – William Wald Lett Jr. of Eaton, Indiana, files a formal legal complaint with Clayton County, Georgia, police. Lett said he brokered and videotaped the transaction on behalf of Tom Biscardi, who promised Lett that he'd repay the loan at 50 percent interest, $75,000 due within 90 days. Lett said he has tried without success to contact Whitton and Dyer to get his money back. (AJC)
The timeline was constructed from various files, including the timelines found in the media, blogs, and forums, including from the BFRO, BFF, D. B. Donlon, Steve Kulls, and Cryptomundo.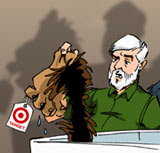 About Loren Coleman
Loren Coleman is one of the world's leading cryptozoologists, some say "the" leading living cryptozoologist. Certainly, he is acknowledged as the current living American researcher and writer who has most popularized cryptozoology in the late 20th and early 21st centuries. Starting his fieldwork and investigations in 1960, after traveling and trekking extensively in pursuit of cryptozoological mysteries, Coleman began writing to share his experiences in 1969. An honorary member of Ivan T. Sanderson's Society for the Investigation of the Unexplained in the 1970s, Coleman has been bestowed with similar honorary memberships of the North Idaho College Cryptozoology Club in 1983, and in subsequent years, that of the British Columbia Scientific Cryptozoology Club, CryptoSafari International, and other international organizations. He was also a Life Member and Benefactor of the International Society of Cryptozoology (now-defunct). Loren Coleman's daily blog, as a member of the Cryptomundo Team, served as an ongoing avenue of communication for the ever-growing body of cryptozoo news from 2005 through 2013. He returned as an infrequent contributor beginning Halloween week of 2015. Coleman is the founder in 2003, and current director of the International Cryptozoology Museum in Portland, Maine.