Posted by: Nick Redfern on May 14th, 2013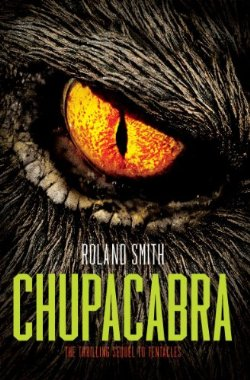 If crypto-fiction is your thing, then a certain, forthcoming book from Roland Smith may appeal. Its title is Chupacabra. No guessing the subject-matter!
Here's what we're told about the book:
"Monsters of legend come to life! The third thrilling title in Roland Smith's popular Cryptid Hunters series. A mysterious creature, a missing girl, and danger at every turn…
"CHUPACABRA, the riveting sequel to TENTACLES and CRYPTID HUNTERS, reunites Marty and his unusual uncle, cryptozoologist Travis Wolfe, as they search the world for Wolfe's daughter, Grace. Grace has been kidnapped by her grandfather, the ruthless and dangerous Noah Blackwood, who has also stolen the two dinosaur hatchlings Wolfe was raising in secrecy. Now, with word that the mysterious creature known as Chupacabra has been sighted again, Wolfe is torn between his obsession with finding cryptids and his desperate need to rescue his daughter. With trouble at every turn and a dangerous journey ahead, will Marty and Wolfe come face-to-face with the mythic monster? Even more frightening, will they reach Grace before it's too late?"
If that gets you in the mood for a bit of monster-fiction, you can already pre-order it right here…

About Nick Redfern
Punk music fan, Tennents Super and Carlsberg Special Brew beer fan, horror film fan, chocolate fan, like to wear black clothes, like to stay up late. Work as a writer.