Posted by: Nick Redfern on February 24th, 2014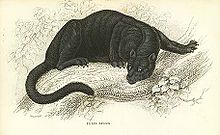 "For decades, reports have surfaced all across the British Isles of sightings of what have become known as 'Alien Big Cats,' or ABCs. Ascertaining where, exactly, the creatures come from is an issue that has, in many ways, polarized the ABC research community into various camps. And, it scarcely needs saying, the debate has sometimes reached near-inflammatory proportions!
"There are those researchers who believe the cats to be escapees from private menageries. Others suggests such animals were secretly let loose into the wild in the 1970s, when the British Government altered the legislation concerning the keeping of large, and potentially dangerous, cats. So the theory goes, the ABCs roaming Britain today are the descendants of the descendants (and so on) of the original 1970s-era cats. Then there is the theory that the mysterious beasts have paranormal origins. But, there is something else, too."
That "something else" amounts to the far older reports that pre-date today's ABCs…

About Nick Redfern
Punk music fan, Tennents Super and Carlsberg Special Brew beer fan, horror film fan, chocolate fan, like to wear black clothes, like to stay up late. Work as a writer.