Posted by: Nick Redfern on July 17th, 2013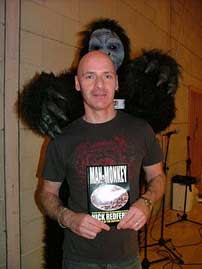 It was around the year 1910 that a weird and horrific saga began – on what is today the B3212 road, which can be found in the vicinity of the Dartmoor, England locales of Postbridge and Two Bridges. It became known as the mystery of the Hairy Hands. Somewhat disturbingly, a hairy, monstrous and unknown force would time and again violently lash out at unwary passing drivers, and which, in one case, reportedly even resulted in a tragic death for an unfortunate road-user.
In most of the cases, the victims of the frightening phenomenon reported seeing large, hairy, "disembodied hands" manifest out of thin air, firmly grabbing the steering wheel of their vehicles – or the handle-bars of their bikes – and unsurprisingly striking complete terror into their hearts; something which invariably resulted in them being violently forced off the country road. For a decade or so, the events were considered nothing more than a mild – albeit certainly sinister – curiosity for the superstitious locals of the Dartmoor wilderness. That situation would drastically change in 1921, however, when tragedy struck.
Read more at my Mysterious Universe article here.

About Nick Redfern
Punk music fan, Tennents Super and Carlsberg Special Brew beer fan, horror film fan, chocolate fan, like to wear black clothes, like to stay up late. Work as a writer.