Posted by: Nick Redfern on November 3rd, 2013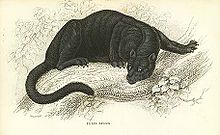 Over at the UK's Telegraph newspaper there is an article on the so-called ABCs (Alien Big Cats) that presents the phenomenon (and the attendant controversy) in a positive light. It starts like this:
"The stuff of rural legend, for decades apparent sightings of big cats stalking the British countryside have been dismissed as fantasy or hoax.
"But now, a scientist has uncovered tantalising evidence pointing towards the existence of such creatures living in the wild.
"Dr Andrew Hemmings, senior lecturer in animal science at the Royal Agricultural University, in Cirencester, has been investigating the phenomenon for the past year and his – still ongoing – research has already identified the remains of some wild animals apparently eaten by creatures larger than any of the country's known carnivores."

About Nick Redfern
Punk music fan, Tennents Super and Carlsberg Special Brew beer fan, horror film fan, chocolate fan, like to wear black clothes, like to stay up late. Work as a writer.