Posted by: Nick Redfern on December 11th, 2012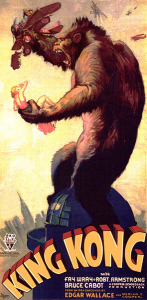 Over at EHow.co.uk, there's a new post from me on my top 20 monsters of the movies, many of a definitively cryptozoological nature.
And it begins like this…
"They range from a massive, city-destroying reptile to a monstrous ape, a glowing-eyed winged fiend to an oversized spider, a shape-shifting werewolf to a blood-thirsty giant worm, and much, much more. They have given cinema audiences thrills, shocks, scares and frights for decades. And they have achieved legendary status in the worlds of film-making and Hollywood. Some you will know, others may be less familiar. But they all have one thing in common: they fall under the banner of our personal, favourite monsters of the movies. So, sit back, grab a bag of popcorn and a coke, and read on!"

About Nick Redfern
Punk music fan, Tennents Super and Carlsberg Special Brew beer fan, horror film fan, chocolate fan, like to wear black clothes, like to stay up late. Work as a writer.