Posted by: Nick Redfern on November 14th, 2012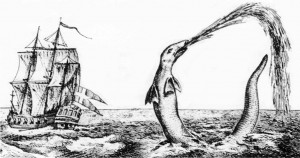 Richard Muirhead tells us:
"I came across another interesting Hong Kong cryptozoology story the other day via the excellent Trove online database (based in Australia) , dated from September 22nd 1880. It was published in the Gippsland Times (Victoria state.) Interestingly, there is a story from Tai Hang village near Causeway Bay on the north side of Hong Kong island in the same year of a sea monster or dragon which, when it appeared, stopped the course of a plague, thus saving the villagers. The image below from a web site illustrates this Tai Hang story. However, the events below took place in Aberdeen then a small fishing village on the south side."

About Nick Redfern
Punk music fan, Tennents Super and Carlsberg Special Brew beer fan, horror film fan, chocolate fan, like to wear black clothes, like to stay up late. Work as a writer.