Posted by: Nick Redfern on September 30th, 2013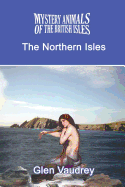 Glen Vaudrey (my co-author on Mystery Animals of the Britsh Isles: Staffordshire) tells us:
"On Saturday night's Morton Through Midnight show the regular cryptozoology feature Morton's Mystery Creatures focused on a mystery sea serpent spotted in Orkney. Just over a hundred years ago, one fine day in August, nineteen hundred and ten, three men were out hunting ducks off the coast of Orkney when they encountered something far larger than wildfowl.
"The companions, a fellow by the name of Hutchinson, his father and a cousin, headed out towards the Skerry of Work located in Meil Bay. The day was perfect: bright, clear and tranquil as they sailed quietly out toward the Skerries. Suddenly the tranquility was broken by a school of whales leaping clear out of the water, making a great commotion and traveling at great speed as if in fear for their lives. This sudden surge of cetaceans, seemingly heading straight at the boat in a blind panic, just managed to avoid the fragile craft, much to the relief of its occupants."

About Nick Redfern
Punk music fan, Tennents Super and Carlsberg Special Brew beer fan, horror film fan, chocolate fan, like to wear black clothes, like to stay up late. Work as a writer.