Posted by: Craig Woolheater on April 2nd, 2015
Did any of the Cryptomundians see any cryptid pranks in the media yesterday?
I only saw two, one of which was fairly high profile.
The high profile one was perpetrated by the U.S. Forest Service (USFS):
Loss of space threatening North American Sasquatch
There are many reasons the U.S. Forest Service conserves open space. It allows us to deliver clean water, provide space for recreation activities and maintain wildlife habitat for a variety of creatures – most notably the North American Sasquatch.
While most people believe this Ape Man to be a thing of folklore and urban legend, researcher Thaddeus Guttenberg, with the U.S. Forest Service Mythical Wildlife Division, recently confirmed that Bigfoot is as real as he is.
"We've been keeping its existence under wraps for years to protect its privacy," said Guttenberg. "But because the country is losing more and more open space each day, we wanted to make it known that the habitat to one of America's greatest legends may be at risk."
With the confirmed existence of Bigfoot, the Forest Service has put together a few outdoor and recreation safety tips:
Travel with a companion
Think about your footing while traveling
Wear appropriate clothing
Check your equipment
Learn basic first aid
Make camp before dark
Refrain from traveling with a Yeti, which is similar but also the natural enemy to the Sasquatch
Keep in mind that these tips are resourceful for any adventure you have at a National Forest, not just when you encounter a 9-ft tall Ape Man.
For more information please visit, www.ThisWasAnAprilFoolsDayJoke.fs.fed.us.
The other one was perpetrated by the Clackamas County Tourism & Cultural Affairs:
Bigfoot FOUND in Oregon's Mt. Hood Territory
In a surprise announcement that is sending shock waves through the scientific community, biologists have confirmed that the cryptid commonly referred to as "Bigfoot" and "Sasquatch" has been found in an area of Oregon known as Mt. Hood Territory.
Mt. Hood Territory encompasses all of Clackamas County, which stretches from portions of the Portland Metro area, including Oregon City, West Linn and Lake Oswego, through areas of the Willamette Valley eastward covering the western half of Mt. Hood. It's in this area that biologists have confirmed the elusive creature has made its home.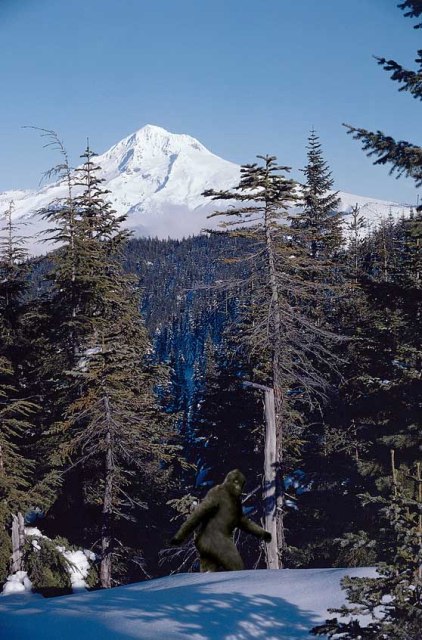 A photographer attempting a scenic shot of Mt. Hood instead captured what many claimed to be the elusive Bigfoot.
"The seclusion and rugged nature of the Mt. Hood National Forest is the perfect home for Sasquatch," said April LeFoe, lead biologist with the team that made the announcement. "While there are many popular recreational areas that attract hikers, skiers, mountain bikers and other outdoor enthusiasts, there are thousands upon thousands of acres of pristine, secluded wilderness. This is why it took so long to confirm the animal's existence."
It's the seclusion that made Bigfoot so hard to find, according to LeFoe. The lush forest, abundant wildlife and biodiversity makes for the perfect habitat.
The fact that she was the one to finally prove Bigfoot's existence, though, is priceless to her. When asked what she will tell the many skeptics, she replied only with:
"April Fools!"
If any of the Cryptomundians saw any other than these two, please share them in the comments below.
#AprilFoolsDay
About Craig Woolheater
Co-founder of Cryptomundo in 2005. I have appeared in or contributed to the following TV programs, documentaries and films: OLN's Mysterious Encounters: "Caddo Critter", Southern Fried Bigfoot, Travel Channel's Weird Travels: "Bigfoot", History Channel's MonsterQuest: "Swamp Stalker", The Wild Man of the Navidad, Destination America's Monsters and Mysteries in America: Texas Terror - Lake Worth Monster, Animal Planet's Finding Bigfoot: Return to Boggy Creek and Beast of the Bayou.