Posted by: Loren Coleman on May 13th, 2011
They are strange-looking, they are winged, they have large red eyes, and they make loud noises.  The invasion is on. Are they Mothman?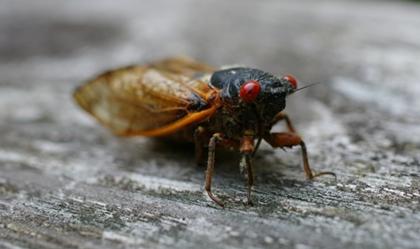 No, it's Brood XIX of the 13-year cicadas. They have returned. The Great Southern Brood are coming out of the ground, and appearing, especially, throughout North Carolina, South Carolina, Georgia, Mississippi, and Arkansas. But Brood XIX, specifically, can be found in all of these states: AL, AR, GA, IN, IL, KY, LA, MD, MO, MS, NC, OK, SC, TN, TX, and VA. There are 15 known broods, as the offspring groups are known: 12 that come every 17 years and three that come every 13 years.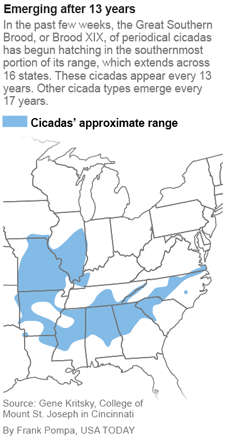 By the way, the Great Southern Brood did not appear throughout the South or in West Virginia or Ohio in 1966-1967, the years of the most Mothman sightings. Brood XIX emerged in 1972. The 17-year Brood VIII, only known from New York, was the one appearing in 1967, and VII, from Georgia, North Carolina, and South Carolina, for 1966. See here.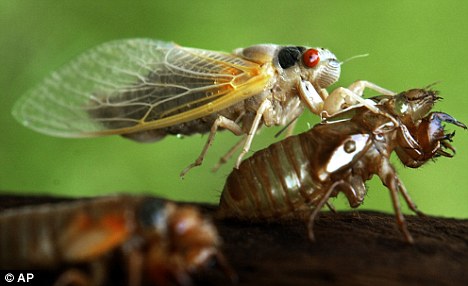 Brood XIX last filled U.S. skies in 1998.

They are the largest cicada variety in the world and only emerge every 13 years to breed.

Females lay their eggs in tree twigs which hatch after six to eight weeks.

The annoying din they are famous for is the sound of males singing for mates.

About an inch-long, they feed by attaching a nodule onto a branch and suck the nutrients from its juicy core.
Source.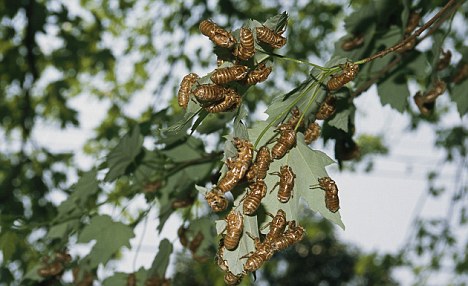 But, as opposed to folklore about them, they are not locusts destroying crops and they do not attack, sting, or bite humans.
The red-eyed army has already reached the southern states of America, prompting many farmers to cover their crops with heavy protective netting.
"There are billions of them in the trees," Greta Beekhuis told USA Today from her home in Pittsboro, North Carolina. "The sound of the cicadas is clearly audible over the line. When I drove from my house to the grocery store, I ran over thousands of them. They're everywhere. The air is just thick with them."
Loren Coleman – has written 5489 posts on this site.
Loren Coleman no longer writes for Cryptomundo. His archived posts remain here at Cryptomundo.