Posted by: Loren Coleman on March 31st, 2011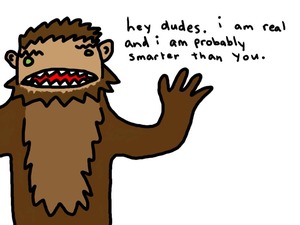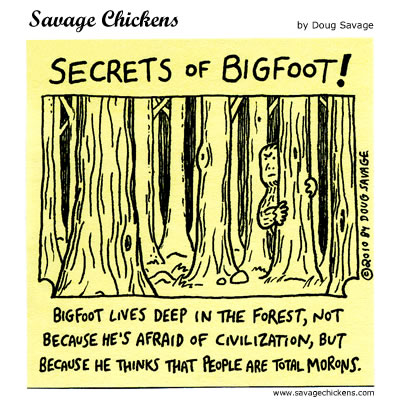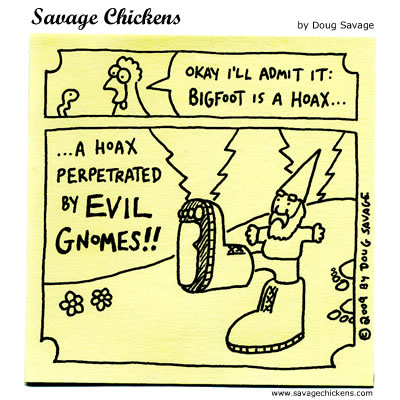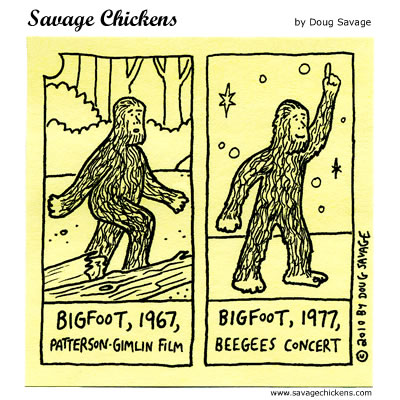 (Special permission to use Savage Chickens cartoons from artist Doug Savage. For more, see here.)
Rumors. Falsehoods. Not even half-truths. Misinformation. I listen to it about Bigfoot, am ask about it regarding Sasquatch, and challenged with it all.
Visitors to the International Cryptozoology Museum are merely repeating what they overhear in the media, from their non-cryptozoology-aware family and friends, and/or according to notions they have carried around in their heads for years.
All of these comments are untrue, but people state them as facts as I give them tours around the place, where despite many cryptids being showcased, the talk always returns to Bigfoot.
Here are a few of these "Bigfoot Bogus Bunkum" (most of which are about the Patterson-Gimlin footage):
There is only one Bigfoot.
No one ever sees Bigfoot.
No evidence is found for Bigfoot.
The only ones are seen in northern California.
One of those guys who took the film made a deathbed confession.
Hoaxer Ray Wallace's wife was in the suit.
A Hollywood stuntman made a deathbed confession.
A friend of Roger Patterson's was definitely in the costume.
A football player has confessed to being the Bigfoot in the 1967 Bluff Creek film.
Tom Biscardi was part of the hoax of that film of the Bigfoot.
A family of Bigfoot was killed at Bluff Creek. And the film is part of the coverup.
+++
As it turns out, every one of the above statements are groundless.
Share a few you hear.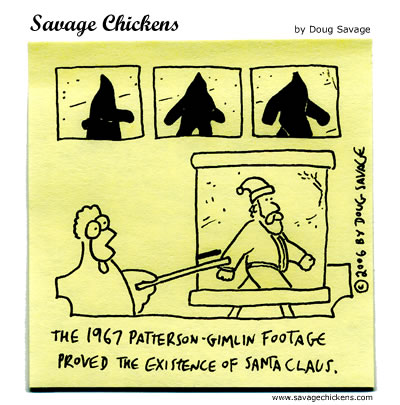 Loren Coleman – has written 5489 posts on this site.
Loren Coleman no longer writes for Cryptomundo. His archived posts remain here at Cryptomundo.