Posted by: Loren Coleman on August 23rd, 2008
I saw one of these tee-shirts a few days ago, but I was waiting for others to hit the Bigfoot market.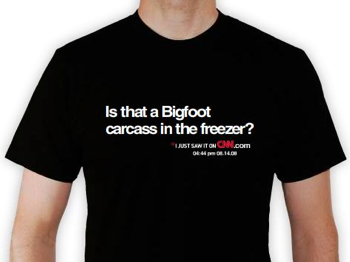 Now this one is out.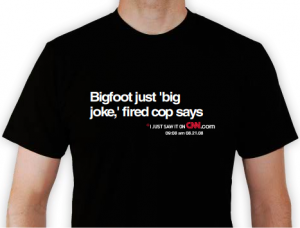 Besides these two, no other high-quality tees have surfaced, as far as I have been able to discovery. The news cycle is shifting, Senator Biden, not Bigfoot, will be all over the airwaves in the near future. Georgia ice-cube Bigfoot tee-shirts will not be on folks' minds for long.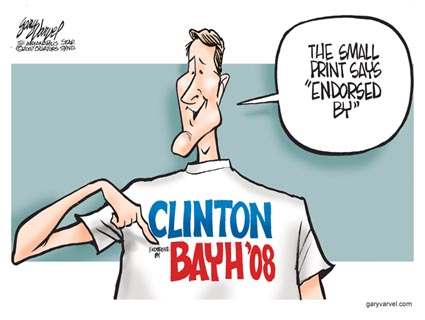 Zeke: "Hey, Elwood, what in the world we gonna do with these 10,000 freshly printed Obama-Bayh '08 tee-shirts?"
Elwood: "I don't know, Zeke, but I heard about this guy out in California that might buy 'em. He's into buyin' things that no one else would."
Other regional events and generalized celebrations of all things cryptids have resulted in other tee-shirts too. I suppose the CNN or FOX mini-documentary may be the next thing we hear about, but the tees live on in photos.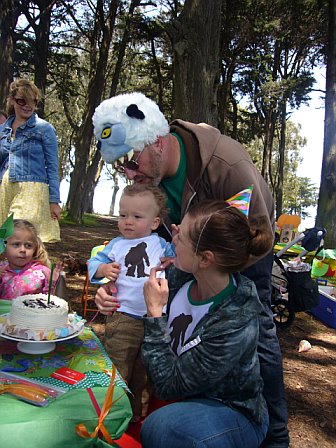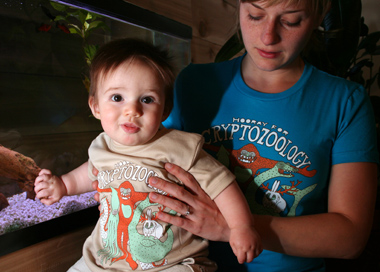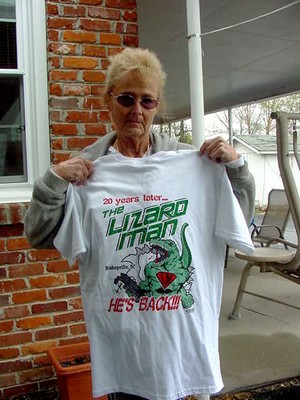 While waiting on the Georgia Bigfoot hoax docs and other related-deception tees, buy a tee-shirt from a guy trying to help the cause, not make fun of it. Wildlife artist Richard Klyver, who spent seven years in Africa, has produced a series of high-quality tee-shirts. His first one is a drawing of the Abominable Snowman or Yeti, as shown here.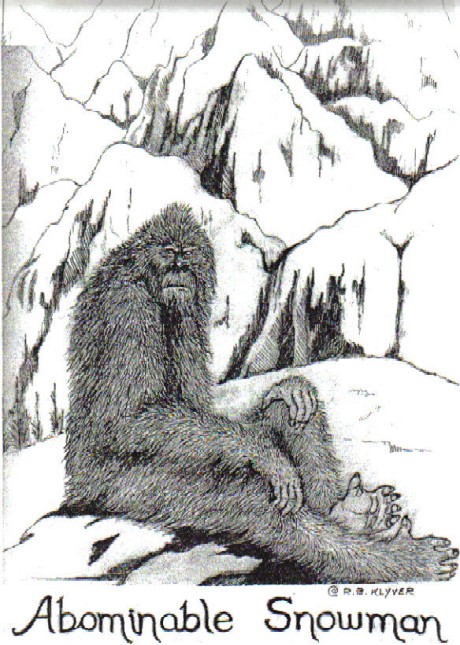 In support of the International Cryptozoology Museum fundraising drive, he is generously donating $2.50 from the sale of each tee-shirt. If interested, please contact Klyver at windigo2@myfairpoint.net to talk to him about PayPal or snail mail check payment. The cost of $20/shirt includes domestic postage, for one shirt (sizes S, M, L, XL), with the Abominable Snowman on it. Be sure to include your shipping address with your PayPal payment.
Or just donate the $20 to the Museum, straight to lcoleman@maine.rr.com
[Thanks folks, typo corrected.]


Loren Coleman – has written 5489 posts on this site.
Loren Coleman no longer writes for Cryptomundo. His archived posts remain here at Cryptomundo.