Posted by: Loren Coleman on September 23rd, 2008
I share this story in line with stories and comments frequently left here about the often-told tale of "escaped circus animals" being responsible for mystery animal sightings. Apparently, in Mexico, it does happen that animals escape from circuses and private zoos, sometimes with tragic consequences.
The Associated Press is reporting on Tuesday, September 23, 2008, that a five-ton elephant escaped from a circus and wandered onto a busy highway, where it was hit by a bus. Both the driver of the bus and pachyderm were killed early Tuesday.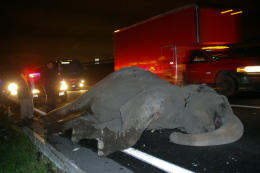 A dead elephant lies on the Mexico-Piramides freeway near Mexico City after being struck by a bus early today.
Bus driver Tomas Lopez, 49, was killed and at least four passengers were hospitalized after the pre-dawn collision in Ecatepec, just north of Mexico City.
State police spokesman Juan Sanchez said the elephant escaped from its cage at the Circo Union, but he declined to give any other details. He said officials were investigating.
The state-funded Notimex news agency reported that the elephant named Indra escaped as its keeper arrived to feed it, knocking down a metal door and wandering through two neighborhoods before trying to cross the highway.
Last month, the AP report continues, a 500-pound lion escaped from a local lawmaker's private zoo in southern Mexico, killing two dogs and a pig and attacking a woman and child on a donkey before it was sedated and captured.
Loren Coleman – has written 5489 posts on this site.
Loren Coleman no longer writes for Cryptomundo. His archived posts remain here at Cryptomundo.