Posted by: Loren Coleman on February 21st, 2009
Considered extinct in the U.S. by the 1970s, two independent sightings of jaguars (Panthera onca) ten years ago confirmed that they might still exist in the American Southwest. Recently, images of jaguars were taken in Arizona and New Mexico, and now one has been captured in Arizona.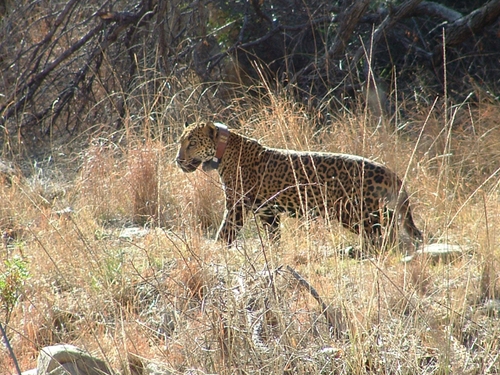 Photo: The jaguar that was released after having a tracking collar fitted to its neck. Credit: Arizona Game and Fish Department
A jaguar was captured southwest of Tucson this week during an Arizona Game and Fish Department research study. The study was actually aimed at monitoring black bear and mountain lion habitats.

The male cat has been fitted with a satellite tracking collar and released. The collar will provide biologists with location updates every few hours and it is hopeful that this data will provide information on a little-studied population segment of this species. This is the first time in the U.S. that a jaguar has been able to be followed in this manner.

"While we didn't set out to collar a jaguar as part of the research project, we took advantage of the important opportunity," Terry Johnson, Arizona Game and Fish dept. endangered species coordinator, said in a press release issued by the department.
Rest of news item.
Apparently, some reassessments of the US policy on protecting the big cats will have to come into play.
On 7 January 2008 United States Fish and Wildlife Service Director H. Dale Hall approved an unprecedented decision by the George W. Bush Administration to abandon jaguar recovery as a federal goal under the Endangered Species Act. The decision is the first of its kind in the 34-year history of the Endangered Species Act. Some critics of the decision said that the jaguar is being sacrificed for the government's new border fence, which is to be built along many of the cat's typical crossings between the United States and Mexico. Source.
Thanks for the new discovery tip from Jason Pritchett.
Loren Coleman – has written 5489 posts on this site.
Loren Coleman no longer writes for Cryptomundo. His archived posts remain here at Cryptomundo.