Posted by: Loren Coleman on November 22nd, 2006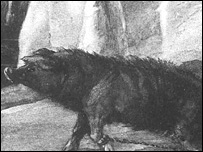 The Shetland pig, or grice, was a specific and special feral boar that was driven into extinction 100 years ago. It was called a "scourge of lambs, landowners and local produce."
There are no known photographs of it, although some drawings (such as the one above) exist.
Highlighted in BBC News and other media, it's been all grice and no pig with this news.
The Scotsman recently noted the grice's distinctive appearance:
Short, squat, with a mohawk of bristled hair running down its spine, the grice was a primitive domesticated pig that became extinct after locals on the island were introduced to plumper and more docile species.
But for centuries before that, grice had the run of the islands in the summer and were free to take up their favourite activities – goring their 4in tusks into lambs and sheep, digging up pasture lands in search of worms and terrifying livestock. The creatures would then spend ill-tempered winters in the home of local crofters.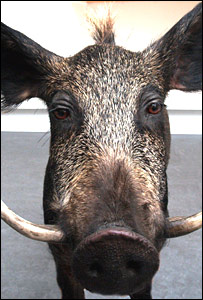 Now people can get a good view (see photos here) of what the grice probably appeared to look like, during its years of glory. A taxidermy re-creation will be exhibited at the Shetland museum, beginning spring 2007.
It may be turkey for most people in the USA on Thanksgiving, but, ah, some of our Shetland ancestors might have had a juicy grice roast. Yummy. (My apologies to vegetarians, of which I am one.)
Loren Coleman – has written 5489 posts on this site.
Loren Coleman no longer writes for Cryptomundo. His archived posts remain here at Cryptomundo.