Posted by: Loren Coleman on July 31st, 2008
I enjoy leading workshops with children, of course, because future cryptozoologists are out there.
Recently, in Alberta, some kids got to attend a "dragons day camp." While there, I spoke to them about cryptozoology on a Monday.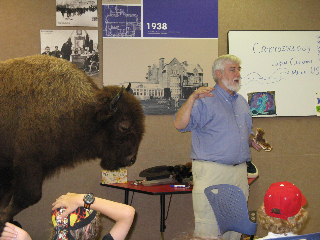 Here I am, looking as if a wood bison is about ready to charge me. What's so incredible about having so many taxidermy-available wood bison in one place is that the Royal Alberta Museum even has one in their children's classroom. I was honored to be able to write "Cryptozoology" on the work board, as a wood bison graced the same space.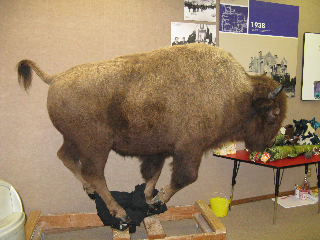 Here's a full photograph of the wood bison mount. You can see how there is no division between the front cape and the rest of the animal, quite different from the borderline visible in the plains bison. (Also, it is easy to observe how in different lighting and photographic conditions the nearly brown-black bison above turns into a tawny-colored bison below.)
I brought along my model of the giant ground sloth from my collection to show the students how replicas are used by cryptozoologists to talk to local people about what they have seen.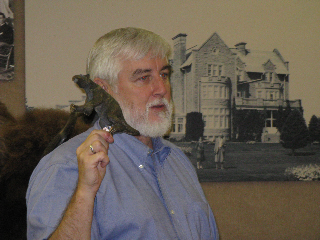 Here is the same model of the ground sloth used by the American Museum of Natural History's Dr. David Oren used in Brazil, when doing his surveys on the Mapinguary.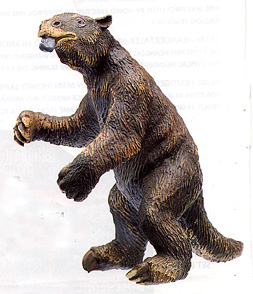 Also, needless to say, I mentioned Bigfoot, Nessie, wood bison, and mammoths, because, after all, I was in Alberta.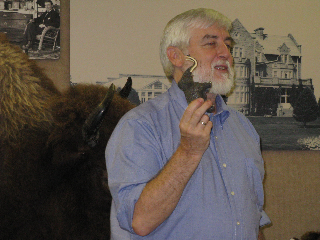 This is one of the little mammoths available at the gift shop at the Royal Alberta Museum.
The kids ask many questions, about dragons, cryptozoology, Loch Ness Monsters, Komodo dragons, and Bigfoot.
Perhaps one of the best questions was from a boy who wanted to know if the footprints left behind were different between male and female Bigfoot. I hope someday he does more reason to find the ultimate answer to that question.
The mini-gathering with the kids at "dragon camp" happened after my more formal presentations earlier in the day and the day before.
The crowd was large, over 150 people, considering it was the afternoon of the first warm, sunny day Edmonton had had in over a week of rain and cold. The museum folks were overjoyed with the turnout, and I had fun with the lecture and Q & A.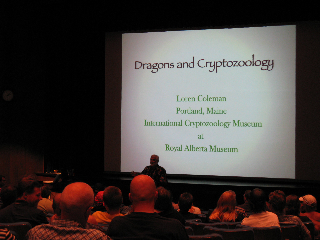 Afterwards, I stayed in the lobby for a good amount of time to sign books that people had brought in from their personal libraries and to answer questions. It was fun to meet people who read Cryptomundo daily.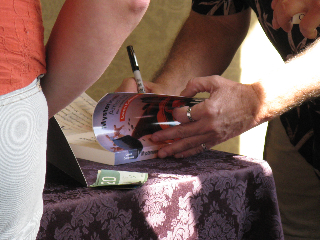 Don't forget, "Save The Museum."
Loren Coleman – has written 5489 posts on this site.
Loren Coleman no longer writes for Cryptomundo. His archived posts remain here at Cryptomundo.