Posted by: Loren Coleman on August 8th, 2008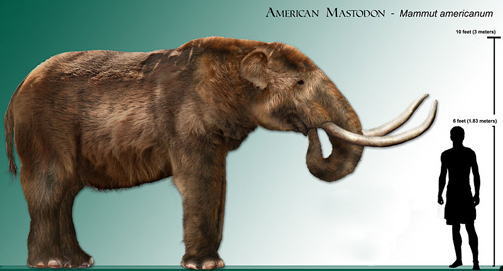 Grey River [New Zealand] Argus, February 17, 1888
A LIVE MASTODON.
THE LATEST WONDER OF THE
ALASKA FAUNA.
The Juneau (Alaska) Free Press says that the Stick Indians, near the headwaters of the White river, positively assert that within the last five years an animal has been seen by them which, according to description, must be a mastodon.
One of the Indians said that while hunting he came across an immense track sunk several inches in the moss and larger around than a barrel. The Indian followed up the curious trail, and at last came in full view of his game.
These Indians as a class are the bravest of hunters, but the immense proportions of this new kind of game filled the hunter with fear, and he took to swift and immediate flight. He described it as being larger than the post trader's store, with great shining, yellowish tusks, and a mouth large enough to swallow him at a single gulp. He said the animal was undoubtedly the same as were indicated by the huge bones scattered over that section.
The fact that other hunters have told of seeing this monster, and the numerous bones found in that section, give a certain probability to the story. On Forty-Mile Creek bones can be found projecting partly from the sands and among the driftwood along the stream.
One ivory tusk projects nine feet out of a sandbank and is larger around than a man's body. A single tooth would be a good load for a strong man to carry.
Thanks to Jerome Clark for forwarding this old report.
Loren Coleman – has written 5489 posts on this site.
Loren Coleman no longer writes for Cryptomundo. His archived posts remain here at Cryptomundo.