Posted by: Loren Coleman on May 29th, 2007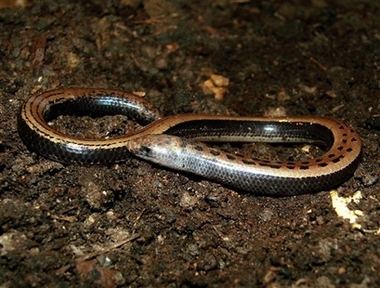 The discovery of a new species of limbless lizard (pictured above), belonging to the genus Sepsophis, was announced on May 28, 2007.
The seven-inch-long lizard was found 10 days before during a field study in the forested region of Khandadhar near Raurkela in Orissa state, India, about 625 miles southeast of New Delhi.
It prefers to live in a cool retreat, soft soil and below stones. The lizard is new to science and is an important discovery. It is not found anywhere else in the world. The new species will be scientifically described at a later stage after accumulation of more data. Dr. Sushil Kumar Dutta of Vasundhra and Head of Zoology, North Orissa University, Baripada, India, as told to the Associated Press.
The closest relatives of the new species are found in Sri Lanka and South Africa.
Another species of the same genus, Sepsohis punctatus, was found in 1870 from the Golconda hills in Andhra Pradesh, said Varadi Giri, a scientist at the Bombay Natural History Society, who was not part of the team that found the lizard. Giri said Dutta is a reputed zoologist and his claim appears legitimate.
"But for an independent confirmation, one has to wait for the publication of the finding in a reputed science magazine," Giri noted.
Loren Coleman – has written 5489 posts on this site.
Loren Coleman no longer writes for Cryptomundo. His archived posts remain here at Cryptomundo.