Posted by: Loren Coleman on August 27th, 2008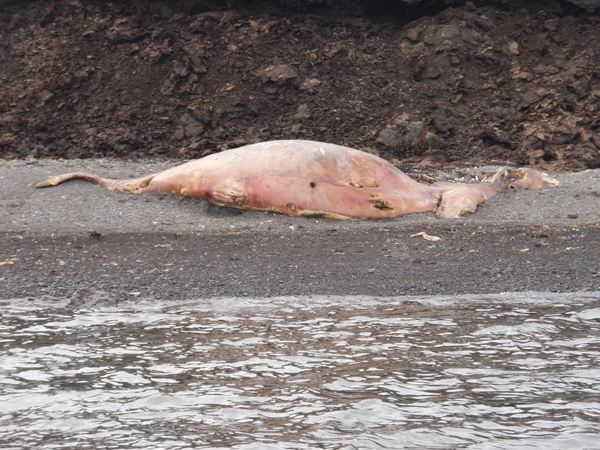 Remember the story of the beached mystery animal, posted here before all the Georgia business?
I've had the photograph of the Alaskan carcass for a couple weeks. However, I didn't want to have it get lost in the hoax mania and blackout, so I kept it in reserve until I could post it during a calmer time.
Here it is above. The picture was taken on July 22, 2008. The image was being shared privately, and then forwarded to me after I posted about this on August 8th.
As you will recall, one of the local theories was this might be the qaqrat. The term comes from the Inuit dialect of Cup'ig, Nunivak Island's native language. It roughly translates as "beast-walrus."
One person in Mekoryuk – Nunivak Island's only village – thinks the smooth-skinned corpse might be the beast, the qaqrat, rumored about in local legend.
Others have speculated the body was of a walrus, an elephant seal, a small whale, or a dolphin.
The whereabouts of the carcass, whether any samples were taken, or even if it has been revisited and bones gathered, are all unknowns.
Loren Coleman – has written 5489 posts on this site.
Loren Coleman no longer writes for Cryptomundo. His archived posts remain here at Cryptomundo.