Posted by: Loren Coleman on January 20th, 2009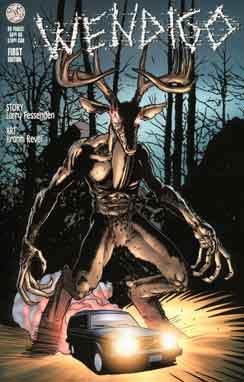 Once upon a time, yet another comic book appeared with the Wendigo theme. Folk songs have materialized, as well, about the strange beast.
Do you know of any old folk songs of cryptids?
I'm reminded of one, of a weird creature in Canada, which I discussed in Mysterious America.
Mention of it is in the Songs of the Miramichi, in Folksong No. 47, which is entitled, "The Wild Cat Back on the Pipe Line." It told of the people who saw a strange animal while they were working along the pipeline. One passage goes:
The next one that saw it, his name was LeClair.
He said 'twas no monkey, nor neither a bear,
For he came from Australia and knows it is true,
For he saw many like it, 'twas a big kangaroo.
This song, written by Jared MacLean, is dated 1948, and serves as a historical backdrop to the recent mystery kangaroo reports I was tracking out of New Brunswick. As the title of the song demonstrates, the kangaroo and phantom panther accounts often merge. But was the song about a mystery felid, a mystery 'roo, a peculiar primate, or a Windigo (a/k/a Wendigo and other forms)?
My friend Jerome Clark, well-known researcher, scholar and author of Fortean and anomalistic works, has written some modern songs in the style of folk songs. That fact also naturally means he collects various cryptid folk songs.
He writes:
Old folk songs and ballads sometimes evoke encounters with ghosts, demons, fairyfolk, mermaids, and other such entities (even, in one elusive instance I have been trying to document
since the 1970s, a mid-19th-Century Nebraska sky serpent).
Maybe the readers of Cryptomundo can assist him with that special quest. Do you know any 19th Century folk songs about "sky serpents"?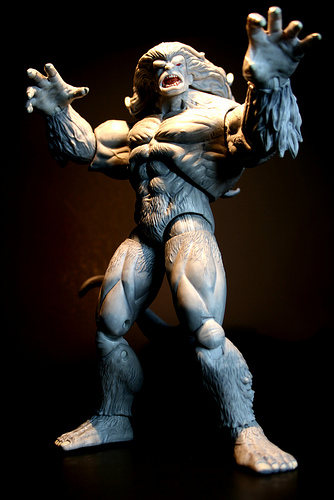 Figurine above is from the Hulk Legends Series 1: Wendigo.
Jerry Clark continues:
I do a lot of CD reviewing, so packages containing new releases regularly show up on my doorstep. Yesterday brought a disc from the folksinger Mickey Clark (no relation), Winding Highways. Among the cuts is a song, "Wendigo," written by Dwain Story in the 1960s. I'd known vaguely of its existence, but this is my first hearing of it.

Clark's liner notes remark, "The Wendigo is a Native American legend shared by the Cree and the Ojibwa, and is said to be half-bird and half-man, with fiery feet."

On the other hand, anthropologist Richard J. Preston has written that the Wendigo (Witiko in some spellings) is a "cannibalistic, monstrous person reported to have been encountered by Algonkian Indians in the northern forest."

Wendigo legends are sometimes cited in the Sasquatch literature. Several academic papers on the subject, including Preston's, are to be found in Marjorie Halpin and Michael M. Ames, ed. Manlike Monsters on Trial: Early Records and Modern Evidence (Vancouver and London: University of British Columbia Press, 1980). ~ Jerry Clark
"Wendigo" by Dwain Story
My home's way up to the north they say
Where the hunter may die all alone
Red men have told a legend so old
Of death whose sound is a moan.
Chorus:
I fly where the forest meets the sky
I race the northern wind where I go
My feet are on fire as I run and I cry
My name is Wendigo.
Where I walk are the prints of my feet
They burn through ice and snow
And the hunter who sees looks above in the trees
It's the mark of the Wendigo.
Chorus.
White lakes and trees in the moonlight
A sound so lonesome and low
Is it the wind, or a cry in the night?
Wendigo, Wendigo.
Chorus.
The image below of a Wendigo confronting a human is from the Dark Horse comic series B.P.R.D.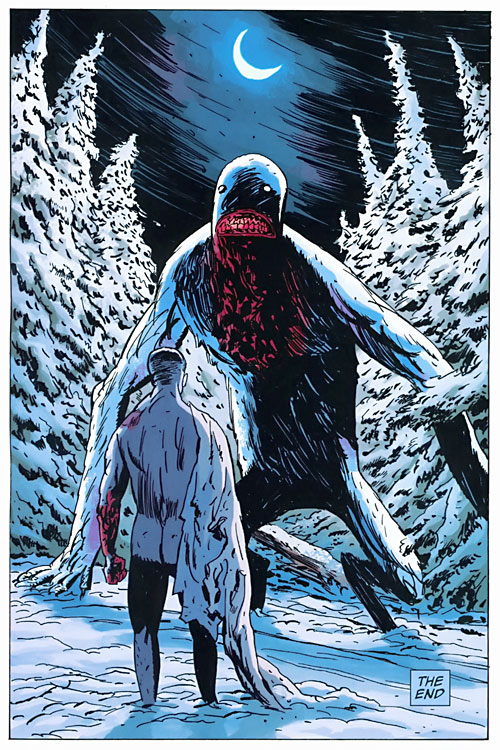 Loren Coleman – has written 5489 posts on this site.
Loren Coleman no longer writes for Cryptomundo. His archived posts remain here at Cryptomundo.