Posted by: John Kirk on May 5th, 2014
You've heard of blobsquatch. Now there is Dotsquatch. This video is supposed to be of a sasquatch. It must hold the world record for most indistinct blip on video in history.
YouTube video of possible Sasquatch sighting near Squamish, B.C. getting thousands of hits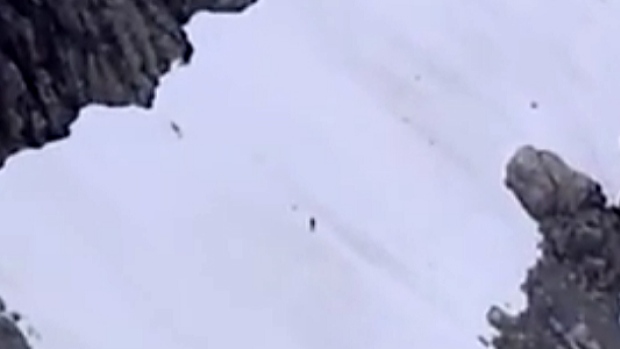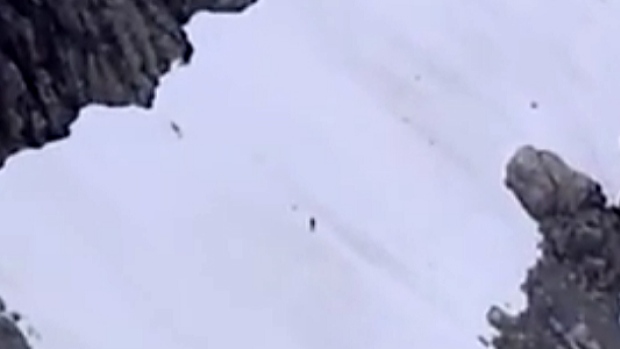 Screen grab of Youtube video taken by M Lamont of what he describes as a possible Sasquatch sighting in the Tantalus Mountain range near Squamish, B.C. (YouTube/M Lamont)
A B.C. man who claims he filmed a possible sasquatch while hiking in the Tantalus Range near Squamish, B.C. two years ago is getting thousands of hits on YouTube after recently uploading the footage.
The video shows a black dot of a figure apparently moving up the slope of a snow covered mountain.
"I can't see it very well," Lamont says into the camera lens. "It's this little black dot walking in the middle of the snow in the middle of nowhere."
The video is intriguing because the shape does appear to be moving up the mountain.
"If that's human why would you walk up that ridge or that snow line?" Lamont asks. "Why would he not just go straight down?"
"Good thing we brought beers," Lamont jokes. "Maybe we can lure him over here. I don't know how high we are, but we're probably close to 7,000 feet and this guy's just scampering up snow lines like it's no big deal."
It's been suggested the figure is a bear, possibly upright against the slope.
Bear, Sasquatch or somehow staged? What do you think?


This video was only uploaded for the benefit of a couple of friends, we had no intention for it to gather the interest it has. We are not claiming this to be anything other than a strange encounter based on some of the reasons below:
1) We were able to view the subject much better than what the video portrays as it was just a simple point and shoot camera. Contrast was excellent due to the snow behind the subject.
2) The subject was clearly bipedal and was without snowshoes or a backpack and wearing all one coloured clothing. Movement over this kind of terrain in soft snow without snowshoes would have been very difficult and the distance traveled over the given time period would have been very fast for a human without proper snow travel gear.
3) There was a very steep drop off below where the video was shot, easily a 300m sheer face. We were not equipped with climbing gear and a descent around would have been impossible before nightfall.
4) We have encountered bears on the approach to this summit in the past, this video is most definitely not showing a bear or any other wild animal.
5) Perhaps the most reasonable explanation for this video is a very ill prepared hiker, hiking up a difficult section of snowline as opposed to a much easier route, one who is very physically fit and able to cover ground in unusually quick fashion and must have had very large feet as we were breaking through snow crust in just our boots.

About John Kirk
One of the founders of the BCSCC, John Kirk has enjoyed a varied and exciting career path. Both a print and broadcast journalist, John Kirk has in recent years been at the forefront of much of the BCSCC's expeditions, investigations and publishing. John has been particularly interested in the phenomenon of unknown aquatic cryptids around the world and is the author of In the Domain of the Lake Monsters (Key Porter Books, 1998). In addition to his interest in freshwater cryptids, John has been keenly interested in investigating the possible existence of sasquatch and other bipedal hominids of the world, and in particular, the Yeren of China. John is also chairman of the Crypto Safari organization, which specializes in sending teams of investigators to remote parts of the world to search for animals as yet unidentified by science. John travelled with a Crypto Safari team to Cameroon and northern Republic of Congo to interview witnesses among the Baka pygmies and Bantu bushmen who have sighted a large unknown animal that bears more than a superficial resemblance to a dinosaur. Since 1996, John Kirk has been editor and publisher of the BCSCC Quarterly which is the flagship publication of the BCSCC. In demand at conferences, seminars, lectures and on television and radio programs, John has spoken all over North America and has appeared in programs on NBC, ABC, CBS, PBS, TLC, Discovery, CBC, CTV and the BBC. In his personal life John spends much time studying the histories of Scottish Clans and is himself the president of the Clan Kirk Society. John is also an avid soccer enthusiast and player.