Posted by: Karl Shuker on May 3rd, 2013
Surprising as it may seem, not all black panthers are black…
"Black panthers, i.e. melanistic leopards, are exotic-looking felids at the best of times, but the individual constituting the principal subject of this present ShukerNature blog post was a truly exceptional female black panther, purchased from Dublin Zoo during the early 1980s, and exhibited for a few years at Glasgow Zoo before being sold overseas, probably destined for Madrid Zoo.
 On first sight, one could be forgiven for assuming that this extraordinary animal had recently strolled through an unusually dense sheet of cobwebs, for its entire coat appeared to be covered in a fine white filigree of gossamer. On closer inspection, however, this 'gossamer' proved to be a profuse sprinkling of white hairs among its otherwise uniformly-black coat…"
Further details are contained
here
on my ShukerNature blog.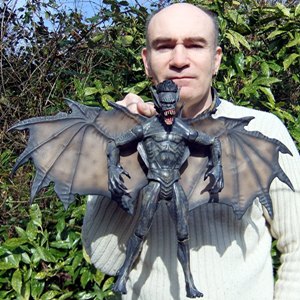 About Karl Shuker
My name is Dr Karl P.N. Shuker. I am a zoologist (BSc & PhD), media consultant, and the author of 25 books and hundreds of articles, specialising in cryptozoology and animal mythology. I have a BSc (Honours) degree in pure zoology from the University of Leeds (U.K.), and a PhD in zoology and comparative physiology from the University of Birmingham (U.K.). I have acted jointly as consultant and major contributor to three multi-author volumes on cryptozoology and other mysterious phenomena. I am the Life Sciences Consultant to The Guinness Book of Records/Guinness World Records (Guinness: London, 1997-present day), and was consultant to Monsters (Lorenz Books: London, 2001), as well as a contributor to Mysteries of the Deep (Llewellyn: St Paul, 1998), Guinness Amazing Future (Guinness: London, 1999), The Earth (Channel 4 Books: London, 2000), and Chambers Dictionary of the Unexplained (Chambers: London, 2007). I appear regularly on television & radio, was a consultant for the Discovery TV series Into the Unknown, and a question setter for the BBC's quiz show Mastermind. I am a Scientific Fellow of the Zoological Society of London, a Fellow of the Royal Entomological Society, a Member of the Society of Authors, and the Cryptozoology Consultant for the Centre for Fortean Zoology (CFZ). I have written articles for numerous publications, including Fortean Times, The X Factor, Paranormal Magazine, FATE, Strange Magazine, Prediction, Beyond, Uri Geller's Encounters, Phenomena, Alien Encounters, Wild About Animals, All About Cats, All About Dogs, Cat World, etc. In 2005, I was honoured by the naming of a new species of loriciferan invertebrate after me - Pliciloricus shukeri.