Posted by: Rick Noll on January 1st, 2006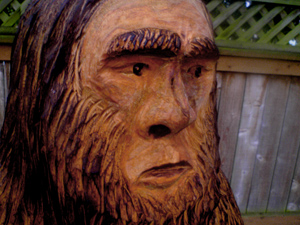 Well I am going to take a little break here on the casting series to showcase what I got for Christmas. It was a pretty big surprise and I think it is pretty cool. It is an original cedar wood sculpture of a Bigfoot.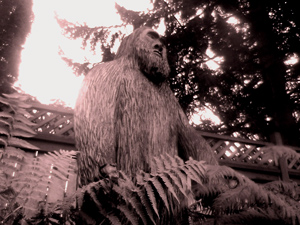 Originally planned for about 6 feet tall… you never know how art will turn out I guess.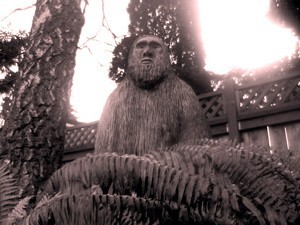 Our yard is landscaped as if part of a Pacific Northwest forested scene and the 5-foot guy fits right in with my track garden.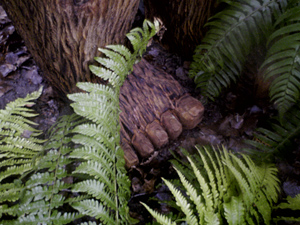 The hand and feet detail is amazing.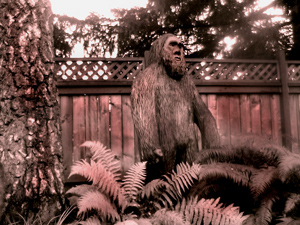 So here comes the delivery truck today and my malamute, Sadie begins a low, deep growl that I have never heard before when we get the Bigfoot out of the bed and prop it up in the middle of the street before moving it into the fenced yard. She continues to growl at it after we place it in the fern / track garden. She approaches it several times then backs off, raises her head and sniffs the air.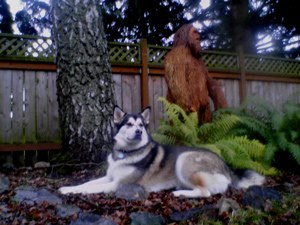 Bottom line here folks is Sadie doesn't seem to be that great of a Bigfoot Hunting dog if she is going to get fooled by a piece of wood and growl at it. You know how many pieces of wood are up here?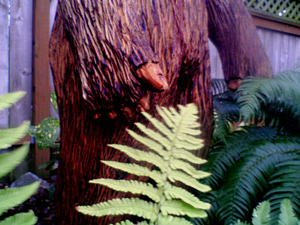 About Rick Noll
Rick Noll has been actively searching for the Sasquatch since 1969 and continues his pursuit with extended field trips into the Pacific Northwest's most remote regions. Rick has worked with Peter Byrne, René Dahinden, Grover Krantz, John Green, Jeff Meldrum and the BFRO during all this. He helped with many documentaries on the subject including Animal X: The Skookum Expedition and Sasquatch: Legend Meets Science.