Posted by: Rick Noll on December 28th, 2005
Part III – Bigfoot Casting Kit
Most problems with casting are from one of these, please try and avoid them:
1. Improper mix – too thick or way too thin,
2. Set time – getting impatient and pulling the cast too soon,
3. Cleaning – getting impatient and cleaning before the face hardens or with improper technique and tools,
4. Final cast thickness – a thin cast is asking for breaks,
5. Improper casting material – using casting material that isn't designed for this application,
6. Debris left in the track – growing vegetation cast around is like building in a perforation for a crack to start
So lets start with the finished product and then see how we got there.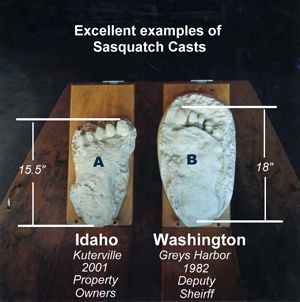 Here are two great cast examples of Bigfoot casts. Brian Smith of Walla Walla, Washington made the one on the left. The one on the right has various names depending on whom you talk to, or what you read from. It has been called the Abbott Hill or the Heryford cast. I am not going to tell you much about either of them here because I thought we could have a little contest about them later… the prize being of course your very own exact replica of one of them, shipped free of charge to your door step… so stay tuned for that.
Hopefully you can see that they have a lot of detail and are very thick. One of the things everyone wanting to search for Bigfoot should do is locate those areas where you think a Bigfoot might be, locate the best track sites and regularly monitor them; don't go looking for tracks in 1,000 year old forest duff.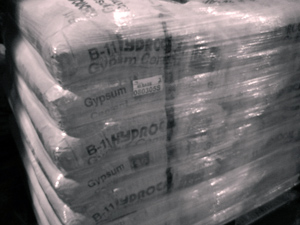 Now on to being prepared for field casting. Buy Hydrocal like the pictured 100 lb. bags above and it will cost you as little as $12.00 a bag, but be prepared to pay as much as $25.00 a bag if you the route of one at a time. You might look for soft tooling places that use this material. They might sell to you cheap.
I usually carry three complete cast kits with me, done it for many years now. Sometimes they stay at home and I have to pick them up before heading out… but they are there waiting. This is what they consist of and how they look.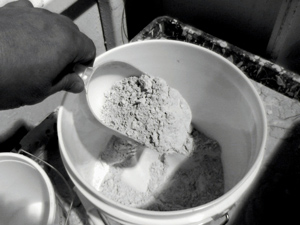 When filling with plaster I only put about three inches in first, then the mixing bucket goes in before filling it to the top.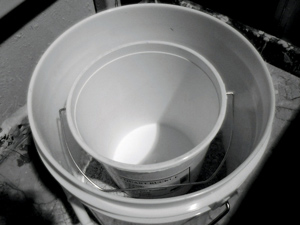 Driving around with these kits you will soon find that the Hydrocal will compress or settle and you can add some more later on. Slightly compressed you can get 20 lbs. in this bucket. It will take about 10 to 14 lbs. of plaster to make a typical sized Bigfoot cast from a track… remembering that you need some context of the surrounding substrate.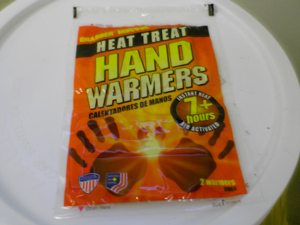 Something not shown in these pictures are three items I have recently included in my own kits. Loggers tape ($6.00), to tie-off on some of the flagging used in marking a track way, a small clear plastic bottle with lid ($2.00), used to collect some of the soil beneath the track after removing the cast and air activated hand warmers, for obvious reasons. This soil might be important later on. The soil might be able to tell us something we haven't thought about yet such as a dietary supplement or maybe how Hydrocal reacts to it when cast against (courtesy of Matt Crowley's investigations).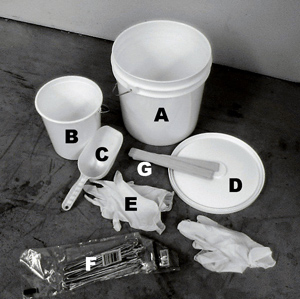 The finished kit has a $2.97 2.5 gallon holding bucket (A) with $2.97 waterproof lid (D), 2 sets of powdered gloves (E), 50 aluminum wire ties at $1.95 a bag (F), 2 mixing sticks (G) and $2.27 secondary bucket (B) and a $2.95 scoop (C). Sometimes I label these kits. Haven't figured a good reason why yet otherwise I would tell you. The kits have traveled across the Canadian border with no problems. Without plaster, this kit weighs 1.3 lbs., with plaster – 21.1 lbs.
Sometimes my kit will just be a very heavy-duty freezer Ziploc bag with Hydrocal in it. I only do this when operating from a backpack, miles away from camp and truck. It is not the best practice since mixing the material is problematic.
I live and work in an area where I can get water from the site 99% of the time. You might need to work around this by carrying your own water. If so, why not carry some drinking water and if you need it to make a cast, it isn't wasted.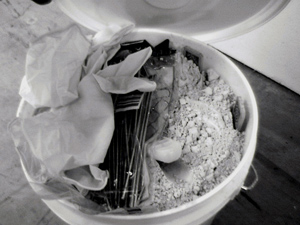 I will get into the field casting in the next post.

About Rick Noll
Rick Noll has been actively searching for the Sasquatch since 1969 and continues his pursuit with extended field trips into the Pacific Northwest's most remote regions. Rick has worked with Peter Byrne, René Dahinden, Grover Krantz, John Green, Jeff Meldrum and the BFRO during all this. He helped with many documentaries on the subject including Animal X: The Skookum Expedition and Sasquatch: Legend Meets Science.