Posted by: Craig Woolheater on July 2nd, 2007
John Kirk posted about some supposed Sasquatch tracks found in BC here on Cryptomundo.
See: Sasquatch Tracks in British Columbia?
and Update: B.C. Sasquatch Occurrence at Golden Ears Park
The photographer of said tracks, registered here on Cryptomundo as hiker11, offered commentary regarding those tracks at John's post.
Hiker11 has posted some photos of a supposed Sasquatch at Bigfoot Forums.
Following is the text and the photograph.
Hi, I have been hiking in the mountains around here for 30 years, mostly Golden Ears area, and between pitt lake and harrison lake, I love the outdoors, heard of sasquatch when we were kids but always thought I would belive it when I see it, Last year I was hiking way up this creek with a friend of mine, and we stoped about 7 kl up the creek to have lunch, and after abit my friend started throwing the stick for his dog, while I was looking around at the mountains and hills with my binoculers, I looked at this hillside and saw something move, I kept the binoculers as still as I could, and saw what looked like a very old man with a grey jacket and pointy grey hat, sitting still, and then he got up and walked to his left, and I knew right away it was a sasquatch, he was tall very tall 10 to 12 feet and could see his hair, and his *tallywhacker*, so knew this was a male, when he walked I could see his yellow hands, from the sun shining on him, I told my friend to take alook at this sasquatch, he said what let me see, he couldent see him but could see the goldish things to the left of the sasquatch, he has perfect vision and could see the goldish things with his eyes from this distance, and said he sees the big stump too, he went back to playing with his dog, I kept looking and the sasquatch came back from his left and sat down with his legs out and his hands on his knees just like us, he was always looking north east, so couldent see his face realy good, we were south of him, he was silvery grayish in color and thin, looked like a 80 year old man, with lots of hair, more on his head than anywere else, way more human than ape looking, I reported this a few months back to West coast sasquatch, and still keep in touch with them, since that day I have found lots of tracks and other strange things, I was growled at a few weeks back and it went right threw my body and down the valley, I know this growl was ment for me I was the only one there, I wont hike alone anymore in there or take my son in there hiking ever again.hiker11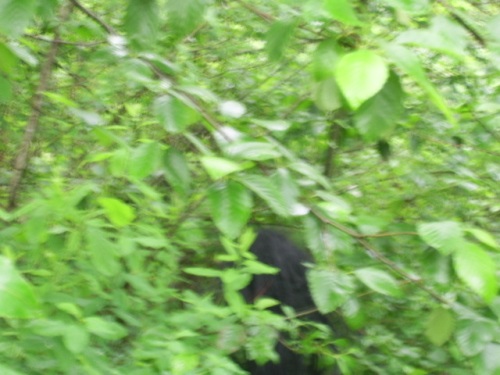 About Craig Woolheater
Co-founder of Cryptomundo in 2005. I have appeared in or contributed to the following TV programs, documentaries and films: OLN's Mysterious Encounters: "Caddo Critter", Southern Fried Bigfoot, Travel Channel's Weird Travels: "Bigfoot", History Channel's MonsterQuest: "Swamp Stalker", The Wild Man of the Navidad, Destination America's Monsters and Mysteries in America: Texas Terror - Lake Worth Monster, Animal Planet's Finding Bigfoot: Return to Boggy Creek and Beast of the Bayou.