Posted by: Craig Woolheater on June 30th, 2007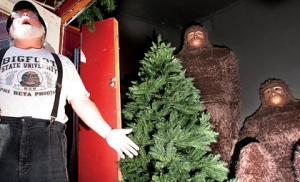 Michael Rugg explains local Bigfoot sightings at the Bigfoot Discovery Museum in Felton.
(Shmuel Thaler/Sentinel)
Researchers convene to weigh evidence of Bigfoot

FELTON — They're said to have a weakness for cinnamon graham crackers.

True or not, tidbits such as that, along with stories, sightings, theories and thoughts, will join more serious study when researchers, field investigators, eyewitnesses and others convene in Felton and Santa Cruz to discuss evidence that the much-fabled — and ridiculed — Bigfoot exists.

For the county's first-ever Bigfoot Discovery Day on Saturday, associate professor Jeff Meldrum of Idaho State University will present evidence from tracks, skin ridges on the soles of the feet, film footage and DNA, which he compares to primate and various other species.

Meldrum, a professor of anthropology and anatomy, has never seen Bigfoot, "but I've seen fresh footprints," he said in a phone interview. "Everything is relative to what your expertise is, and to my eye these footprints were almost as good as seeing the real thing because of the details and the message there in that trackway"

Local Bigfoot advocates say sightings and Sasquatch-related incidents have occurred in the Santa Cruz Mountains, both recently and in past decades, and the search for Bigfoot nationwide seems to be intensifying.

Researchers will visit Michigan next month to search for evidence. The expedition will center in eastern Marquette County, following the most recent Bigfoot eyewitness account, said Matthew Moneymaker of the Bigfoot Field Researchers Organization.

In all but three of 30 expeditions in the United States and Canada, Bigfoot Field Researchers Organization investigators have either glimpsed Bigfoot or gotten close enough to hear the creature, Moneymaker said.

Grover Krantz, a scientist specializing in cryptozoology, believes Bigfoot is a "gigantopithecus," a branch of primitive man believed to have existed 3 million years ago.

But mainstream scientists tend to dismiss the study as pseudoscience because of unreliable eyewitness accounts and a lack of solid physical evidence.

Rather than trying to convert anyone to a certain belief, Meldrum's new book, "Sasquatch: Legend Meets Science," approaches the question of Bigfoot as a scientific hypothesis — what if there were Bigfoot creatures? What would it take? What would be the implications of the discovery of such an animal? What is the nature of the evidence?

The book features a front-cover endorsement by renowned primatologist Jane Goodall and is a companion volume to a Discovery Channel documentary.

"For me, it's a way to increase the level of dialogue, the level of discourse, because frankly I'm one of the few professional academics who speaks publicly on this subject," Meldrum said. "I hope that if I'm talking about this it will give some pause to other academics who will say, 'Hm, I know Jeff's work in paleontology and physical anthropology, maybe there's something to this.'"

Meldrum, who is also affiliate curator at the Idaho Museum of Natural History and has made many appearances as a featured expert on TV and radio, including the Discovery Channel, the History Channel, the National Geographic Channel, the "Today Show" and National Public Radio, speaks on the topic regularly.

He was invited to speak locally by Mike Rugg, proprietor of the Bigfoot Discovery Museum in Felton.

"We want to educate the populace that people are seeing these things and they're out there," said Rugg while standing next to a life-size diorama featuring two large and impassive Sasquatch mannequins staring out from between a couple of fake pine trees. "So what the heck are they?"

Rugg, who's been researching the lifestyles of the big and hairy for more than 50 years, said he had a Bigfoot sighting himself at age 5, along the banks of the Eel River. The results of his efforts, both humorous and serious, are on display at the museum on Highway 9 he opened with wife and fellow Bigfoot aficionado Paula Yarr in 2004.

Of course, said Meldrum, he hears from critics and those who take exception to some of his evaluation of the evidence.

One of Meldrum's most vocal critics, Benjamin Radford, managing editor of Skeptical Inquirer magazine, said he sees the "legend" part of Meldrum's book, but not the "science"

"We're dealing with stories — not plant leaves, not bones, not teeth, stories of something people saw in the wilderness and they can't explain," said Radford, who works out of Albuquerque, N.M. "Anyone familiar with scientific processes and methodologies, that should raise a big red flag"

Bigfoot researchers don't have remnants such as bones and teeth. "They don't have a live one, they don't have a dead one," Radford said.

For Carla Benejam, an instructor of anthropology at Cabrillo College and a Sasquatch enthusiast, Bigfoot Discovery Day sounds like fun. She plans to go with a colleague to check out what Meldrum has to say and hear some Bigfoot stories.

"I think as long as we have myths, we have hope — that's kind of what the human condition is," said Benejam. "I'm all for it"Gwen Mickelson
Sentinel staff writer
Finding Sasquatch
Jeff Meldrum, author of 'Sasquatch: Legend Meets Science,' will present a lecture on his research and the best evidence for a North American bipedal ape at 6:30 p.m. Saturday at Louden Nelson Community Center, 301 Center St., Room 3, Santa Cruz. A social hour will follow the lecture. Tickets range $5-$10.
Earlier that day, the Bigfoot Discovery Museum, 5497 Highway 9, Felton, will present a barbecue lunch 11 a.m. to 1 p.m., where Meldrum will also sign books and sell copies of Bigfoot track casts. Other Bigfoot researchers will attend, as well as Bigfoot eyewitnesses. Admission to the museum is free. For information or tickets, call 335-4478 or e-mail mike@bigfootdiscoveryproject.com.
Here's a short documentary tour of the Bigfoot Discovery Project in Felton, CA.
About Craig Woolheater
Co-founder of Cryptomundo in 2005. I have appeared in or contributed to the following TV programs, documentaries and films: OLN's Mysterious Encounters: "Caddo Critter", Southern Fried Bigfoot, Travel Channel's Weird Travels: "Bigfoot", History Channel's MonsterQuest: "Swamp Stalker", The Wild Man of the Navidad, Destination America's Monsters and Mysteries in America: Texas Terror - Lake Worth Monster, Animal Planet's Finding Bigfoot: Return to Boggy Creek and Beast of the Bayou.