Posted by: Craig Woolheater on January 20th, 2010
There have been rumors floating around of a remake of the seminal southern classic The Legend of Boggy Creek.
The official word is that it is not a remake after all.
New flick revives 'Boggy Creek' idea with different story

Director says movie, filmed around Caddo Lake, will be character-driven

It's not really a remake of the cult classic "The Legend of Boggy Creek" but the theme is similar.

It's "Boggy Creek," an independent movie about to be filmed down around Uncertain and Jefferson, Texas.

Filming is slated to begin this week on the movie about a man-beast creature who is found in a fictional area called Boggy Creek.

The mysterious and Spanish moss-shrouded Caddo Lake is the filming location for the flick, which is being directed by Brian T. Jaynes.

Jaynes said the creature character is loosely based on Caddo Indian mythology. The only similarity to the fuzzy creature alleged to have been seen around Fouke, Ark., and chronicled in "The Legend of Boggy Creek," he said, is that they're both large creatures stalking an area.

"We wanted something that is a little more ominous," said Jaynes, noting the creators of this film went to great pains to not make the stories similar. His movie is also a character-driven narrative and not a docudrama.

Jaynes said he has a lot of respect for "The Legend of Boggy Creek" director Charles B. Pierce, the Texarkanian who succeeded with independent, low-budget films in the 1970s and '80s.

"Essentially our story revolves around five young kids who've been friends all their lives," said Jaynes, an East Texas native who ran a post-production facility in Los Angeles for about 20 years.

Jaynes, who recently moved back to this region, also directed, produced and edited the independent urban drama "Hittin' the Bricks."

His "Boggy Creek" stars several young actors: Stephanie Honore, Texas Battle, Shavon Kirksey, Damon Lipari, Melissa Carnell and Jennifer Sipes.

Battle has appeared in TV series like "The Bold and the Beautiful" and "One Tree Hill."

Jaynes, who co-wrote the script with Jennifer Minar, said the characters are meant to inspire either love or hate.

"If we can generate one of those emotions, then we will have done our job," he said.

Ron Holloman , executive director of the Northeast Texas Regional Film Commission, said Pierce did well in making his low-budget, local film successful on a wider scale.

"They did a real good job when they did the movie. Charles Pierce was way ahead of his time … he actually shot it and found distribution for it. It is a cult classic. I think the movie still holds up in a lot of ways," Holloman said.

He believes Jaynes' film will put that image of a Bigfoot-type character back on the table and wonders if it's something necessary for the human psyche to create.

He believes there are some very remote, deep-woods bottomlands in the region where nobody has ever set foot.

"People love this stuff and I just think it will be a good pickup of that bit of folklore in Northeast Texas and in the Ark-La-Tex," Holloman said.

Holloman said the Caddo Lake area has a dark, mysterious feel to it, making it a natural fit for a scary movie.

"The place comes alive with nocturnal creatures that either hunt or fish at night," he said, noting some areas in the NETRFC territory are quite different with big skies and open space. He said a scene or two will also be shot in Jefferson.

The film commission let the director know they'd help make filming at these locations a success and act as a liaison between the public and the film crew, Holloman said.

"When they come in, we're here to make the connections for them," he said.

And he said with the area's proximity to bigger cities, it's not like they're filming in the boondocks.

"We've got talent and different things in proximity," Holloman said.

Jaynes said the Caddo Lake area is a good fit with a look that's hard to create elsewhere with its Spanish moss and cypress trees. He says the location is one of the best-kept secrets for natural locations.

"Caddo Lake has a very unique look," Jaynes said.

Pierce will receive recognition soon from the Arkansas Arts Council. He will be honored on Oct. 6 with other 2009 Governor's Arts Awards recipients at the ArtLinks 2009 conference in Hot Springs. He will receive the organization's Judges Special Recognition Award for his success as a pioneer filmmaker in the state.

Filming for "Boggy Creek" will continue until early October. The movie is scheduled to be released sometime during the summer of 2010. Aaron Brand
Texarkana Gazette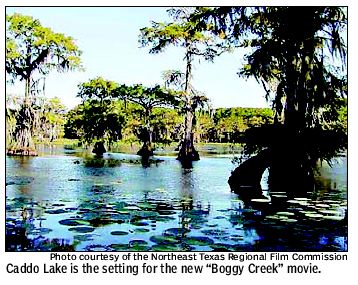 About Craig Woolheater
Co-founder of Cryptomundo in 2005. I have appeared in or contributed to the following TV programs, documentaries and films: OLN's Mysterious Encounters: "Caddo Critter", Southern Fried Bigfoot, Travel Channel's Weird Travels: "Bigfoot", History Channel's MonsterQuest: "Swamp Stalker", The Wild Man of the Navidad, Destination America's Monsters and Mysteries in America: Texas Terror - Lake Worth Monster, Animal Planet's Finding Bigfoot: Return to Boggy Creek and Beast of the Bayou.