Posted by: Craig Woolheater on February 8th, 2007
In a guest blog for Cryptomundo, Kathy Strain of the Alliance of Independant Bigfoot Researchers has offered her professional opinion of the skeleton that Tom Biscardi is claiming is a Bigfoot skeleton.
And to clarify as to the source of the photos, they came from Bigfoot Forums and SquatchDetective.com, not Biscardi's site.
We wouldn't want to violate Biscardi's newly posted copyright disclaimer:
Copyright Searching for Bigfoot Inc., © Searching for Bigfoot Inc. 2006 / 2007

This entire website is covered by this copyright. Any unauthorized use of any materials on this site can and will be punished to the fullest extent of the lawSearching for Bigfoot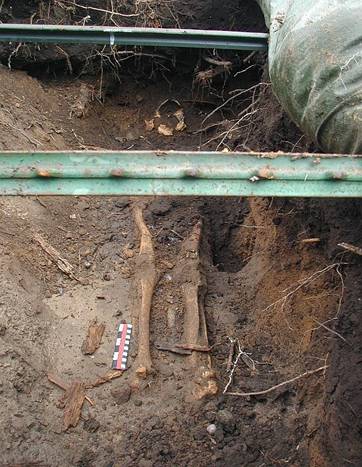 Photo One. Picture of the skeleton with 6-inch ruler.
Back in September, 2006, Tom Biscardi published information on his website about a bigfoot skeleton found somewhere near Paris, Texas. Photos posted were of an open pit…bones exposed to the full view of the camera…a lone 6-inch ruler laid next to a femur. Under the headline of "Possibly the Most Important Find in History," Biscardi claimed that the skeleton was 9 feet, 3 inches tall.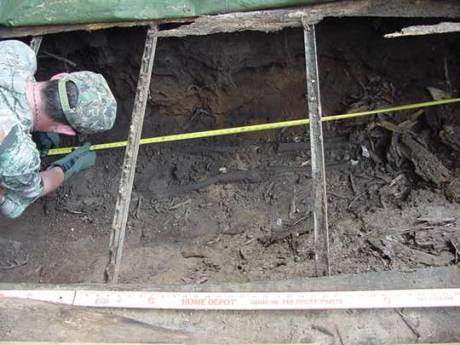 Photo Two. Picture of the skeleton.
Humm…as a professional archaeologist/anthropologist, there is clearly something wrong here.
You can't measure a disarticulated skeleton for height! Forensic Anthropologists use measurements from the long bones and a complicated table of figures to determine height. The six inch ruler next to the femur showed no extreme length. And the jawbone, taken for "further testing", was clearly human…the worn teeth completely indicative of Native Americans. In fact, the bones were found by a man excavating for Native American artifacts.
Photo Three. Picture of the jaw.
Is Biscardi trying to pass off a human skeleton as a bigfoot?
Yes.
In October, 2006, Biscardi had the DNA results back and falsely claimed that "this preliminary information indicated that our find, although outwardly appearing to be human remains, was in fact NOT HUMAN!" (Note that Biscardi was now admitting the remains looked human). Biscardi added a caution to his statement, "keep in mind that this is only preliminary information and that it will take a lot more testing before we can say conclusively what our find may be. It does, however, get our attention peaked and gives us hope that we are just one step closer to solving the mystery surrounding our friend "Bigfoot"! It keeps us pushing the envelope and ignoring the discomforts and dangers of the field while we search."
Yes, Tom, ignore laws, ethics, and morals while you search for bigfoot.
I posted an article about the obvious problems with this find on Melissa Hovey's blog, "Search For Bigfoot." Without reiterating my entire article there, let me say this as bluntly as I can: the skeleton was clearly human and it was against the law to excavate and remove the remains for testing without the proper permissions and permits. However, beyond the legal question, the moral and ethical issues this brings up is enormous. Why is this man still getting press? Why does anyone give him a platform from which to speak?
In January, Biscardi was the guest speaker at the International Bigfoot Society meeting and showed his new movie, Bigfoot Lives!, that includes footage of the skeleton. According to Ray Crowe, "A piece of bone was recovered for testing. C14 indicated 2900YBP, mitochondrial DNA indicated the skeleton was closely related to Homo erectus. Remaining material was returned after copy/casting due to NAGPRA and other federal regulations."
Without directly saying it, Biscardi is admitting the skeleton is human. The Native American Graves Protection and Repatriation Act (NAGPRA) only applies to Native American remains…no need to return the bones if not human. Humans and erectus are both in the Homo line, so technically, any DNA from a human skeleton would be "related to Homo erectus." Biscardi would probably call this semantics…I call it being dishonest. But then again, human burials don't sell videos; made-up bigfoot ones do.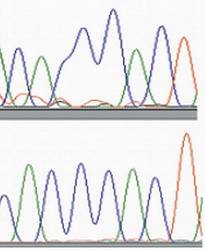 Photo Four. Top graph shows the graph from Biscardi's sample; bottom is human.
Kathy Strain is the Forest Archaeologist for the Stanislaus National Forest in Sonora, California. She has a M.A. in Anthropology and has been investigating bigfoot for many years. Her main research interest involves the traditional Native American stories involving the "Hairy Man," as well as the application of archaeological methods to the study of bigfoot.
She is a professional archaeologist/anthropologist in charge of Native American Graves Protection and Repatriation Act (NAGPRA) for her forest, and the co-author of the standard NAGPRA agreement used by the U.S. Forest Service and Native American Tribes.
She is also one of the founders of the Alliance of Independant Bigfoot Researchers.
About Craig Woolheater
Co-founder of Cryptomundo in 2005. I have appeared in or contributed to the following TV programs, documentaries and films: OLN's Mysterious Encounters: "Caddo Critter", Southern Fried Bigfoot, Travel Channel's Weird Travels: "Bigfoot", History Channel's MonsterQuest: "Swamp Stalker", The Wild Man of the Navidad, Destination America's Monsters and Mysteries in America: Texas Terror - Lake Worth Monster, Animal Planet's Finding Bigfoot: Return to Boggy Creek and Beast of the Bayou.