Posted by: Craig Woolheater on May 18th, 2006
When last we saw the Denison Bigfoot, he was keeping a lonely vigil in the storefront at the Hart Place Antique Mall in Denison, TX.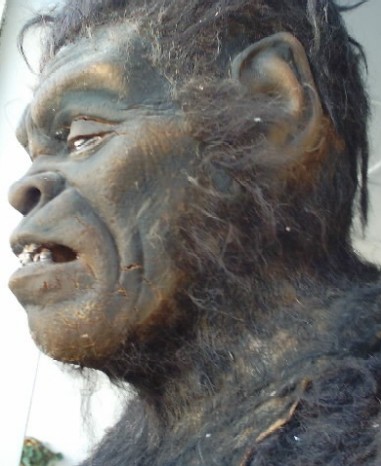 Here is the article that tipped us off to the Denison Bigfoot.
How much is that Sasquatch in the window?
He was either for sale, or was to be auctioned off. As he was in rather flea-ridden condition, the TBRC decided not to liberate him from the storefront. One of our members who lives in the area did some investigation.
I entered the auction house about an hour before they opened and asked about the statue. One of the employees gave me the auctioneer's cell phone number, he said she knew more about it. I called her and she laughed when I told her what I was inquiring about and said, "Everybody loves Bigfoot don't they?" I agreed. "I have nothing but calls about that Bigfoot Statue since I put it in the window," she said.
I asked her about the history of the model and she said it came from "Wild Bill's" Museum in Durant, Oklahoma. "Wild Bill" died, and they were auctioning his belongings. He was supposed to have acquired it from either Snow or Snow's Museum in Missouri. I asked her the price and she said $350. I thanked her for the info and hung up.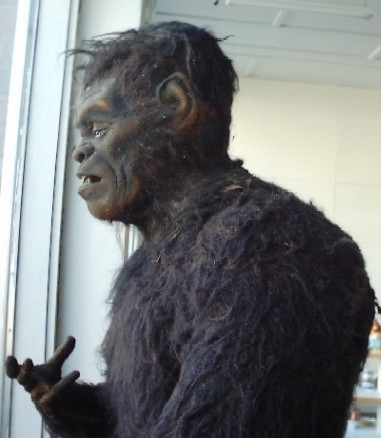 That was in January of 2005, and that was the last we heard of the Denison Bigfoot, until last night.
On a local Dallas news station last night, there was a report of a pawnshop "mascot" in legal trouble.
Yep, you guessed it, the "mascot" in question was the Denison Bigfoot. Only now, he is festooned with Mardi Gras beads, wearing what looks to be a shaggy, purple sweater.
Oh, the travesty…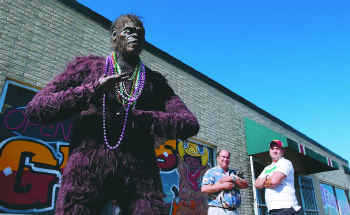 JUAN GARCIA/DMN
Mel Foust (center) and son Brian say their statue doesn't violate city code because it's a mascot, not merchandise.
About Craig Woolheater
Co-founder of Cryptomundo in 2005. I have appeared in or contributed to the following TV programs, documentaries and films: OLN's Mysterious Encounters: "Caddo Critter", Southern Fried Bigfoot, Travel Channel's Weird Travels: "Bigfoot", History Channel's MonsterQuest: "Swamp Stalker", The Wild Man of the Navidad, Destination America's Monsters and Mysteries in America: Texas Terror - Lake Worth Monster, Animal Planet's Finding Bigfoot: Return to Boggy Creek and Beast of the Bayou.