Posted by: Craig Woolheater on November 7th, 2005
As posted on LiveScience today:
A geochronologist, Jack Rink, from an Ontario university has determined that Gigantopithecus blackii lived alongside early humans for over a million years. 10 feet tall, weighing up to 1200 pounds. This is typically larger than most reports of Bigfoot.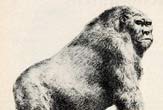 "A missing piece of the puzzle has always focused on pin-pointing when Gigantopithecus existed," Rink said. "This is a primate that co-existed with humans at a time when humans were undergoing a major evolutionary change. Guangxhi province in southern China, where some of the Gigantopithecus fossils were found, is the same region where some believe the modern human race originated."
It will be interesting to see where mainstream science shakes out on this issue. The article is quoted as saying that Gigantopithecus died out 100,000 years ago.

"While most scientists agree that Gigantopithecus died out long ago, some people – Bigfoot, Sasquatch, and Yeti enthusiasts in particular – believe that this ape is the source of tales of giant, hairy beasts roaming the woods."
Gigantopithecus is not the only candidate for Bigfoot that could still be living today. I know that Loren has what he believes are more likely candidates.
"Currently, scientists are debating over how Gigantopithecus got around – was it bipedal or did it use its arms to help it walk, like modern chimpanzees and orangutans? The only way to answer this is to collect more bones."
Maybe this study will lead to more study and discovery of Gigantopithecus remains.
About Craig Woolheater
Co-founder of Cryptomundo in 2005. I have appeared in or contributed to the following TV programs, documentaries and films: OLN's Mysterious Encounters: "Caddo Critter", Southern Fried Bigfoot, Travel Channel's Weird Travels: "Bigfoot", History Channel's MonsterQuest: "Swamp Stalker", The Wild Man of the Navidad, Destination America's Monsters and Mysteries in America: Texas Terror - Lake Worth Monster, Animal Planet's Finding Bigfoot: Return to Boggy Creek and Beast of the Bayou.