Posted by: Craig Woolheater on September 27th, 2006
Loren mentioned this story here on Cryptomundo yesterday in his post The Search for Giant Woodpeckers.
Today comes word of a huge pending announcement regarding the Ivory-Billed Woodpeckers purported to have been found in Florida.
Published in the Smokey Mountain News today is the following news.
The story's been floating around in the blogosphere for a month or so and is now making it's way to birding listservs. Rumor has it that there will be an ivory-billed announcement at the Oct. 3-7 meeting of the American Ornithologists' Union in Veracruz, Mexico.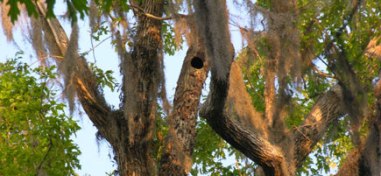 A tree cavity in the swamp forests along the Choctawhatchee River
According to the rumor mill, Auburn University graduate student(s?) have found one or more — up to 9 — pairs of ivory-billed woodpeckers along the Choctawhatchee River in Florida's panhandle. And, of course, the sightings occurred perhaps a year or so ago but have been kept under wraps to aid in land acquisition projects — anyone get a sense of déja vu reading that?
And in the realm of coincidences, the sighting(s?) occurred on public lands adjacent a highly environmentally questionable mega development — a proposed airport. Of course, no one would think of filing suit to stop such a project on behalf of a yet-to-be, irrefutably substantiated endangered species, like, say an ivory-billed woodpecker. Oh, wait — that has been done.
Will the University make an announcement at this upcoming Ornithologists' meeting?
Photo credit to the Avian Conservation and Ecology website.
Read the Auburn University findings titled Evidence Suggesting that Ivory-billed Woodpeckers (Campephilus principalis) Exist in Florida on the Avian Conservation and Ecology website.
The abstract from that paper states the following:
The Ivory-billed Woodpecker (Campephilus principalis) disappeared from the forests of southeastern North America in the early 20th Century and for more than 50 years has been widely considered extinct. On 21 May 2005, we detected a bird that we identified as an Ivory-billed Woodpecker in the mature swamp forest along the Choctawhatchee River in the panhandle of Florida. During a subsequent year of research, members of our small search team observed birds that we identified as Ivory-billed Woodpeckers on 14 occasions. We heard sounds that matched descriptions of Ivory-billed Woodpecker acoustic signals on 41 occasions. We recorded 99 putative double knocks and 210 putative kent calls. We located cavities in the size range reported for Ivory-billed Woodpeckers and larger than those of Pileated Woodpeckers (Dryocopus pileatus) that have been reported in the literature or that we measured in Alabama. We documented unique foraging signs consistent with the feeding behavior of Ivory-billed Woodpeckers. Our evidence suggests that Ivory-billed Woodpeckers may be present in the forests along the Choctawhatchee River and warrants an expanded search of this bottomland forest habitat.
From the introduction of the paper:
On 21 May 2005, GEH, TLH, and BWR detected a bird that appeared to be an Ivory-billed Woodpecker in a mature swamp forest along the Choctawhatchee River north of the town of Bruce in the Florida panhandle. The Choctawhatchee River and its major tributaries flow through more than 20 000 ha of mature, seasonally flooded forest. Baldcypress (Taxodium distichum) was selectively cut from this watershed in the early 20th century, but extensive stands of oak (Quercus spp.), other hardwoods, and scattered huge baldcypress remained uncut. From December 2005 to May 2006 we searched for Ivory-billed Woodpeckers in an approximately 500-ha plot of forest surrounding the location of our initial detection. Two of us (BWR and KAS) camped in the area throughout this period, and the other researchers visited periodically. We moved through the area daily in kayaks and by foot, looking and listening for Ivory-billed Woodpeckers. We carried small video cameras to record images and sounds. In addition, we used seven automated listening stations to make 24-h digital sound recordings throughout our study area.
And from the results of the paper:
On 14 occasions, we sighted birds well enough to observe the diagnostic shape, plumage pattern, or flight behavior characteristics of Ivory-billed Woodpeckers (Appendix 1: table S1). On two of these occasions, we observed two birds together. In each of these encounters, observers who had abundant experience with Pileated Woodpeckers and other southern swamp birds identified field marks that were characteristic of Ivory-billed Woodpeckers, such as white trailing edges on black wings, non-undulating loon-like flight with stiff wingbeats, and white lines running from the neck down the back (see Appendix 1: table S1).
Members of our research team heard sounds matching the distinctive double knock and kent call of Ivory-billed Woodpeckers, including several bouts of repeated double knocks or kent calls, 41 times between May 2005 and April 2006 (Appendix 1: table S2). Seven of 12 visitors to the study site between May 2005 and April 2006 heard sounds consistent with Ivory-billed Woodpecker kent calls or double knocks. We recorded nine putative double knocks and five putative kent calls with hand-held video cameras, including consecutive double knocks that appeared to be given by two different birds.

About Craig Woolheater
Co-founder of Cryptomundo in 2005. I have appeared in or contributed to the following TV programs, documentaries and films: OLN's Mysterious Encounters: "Caddo Critter", Southern Fried Bigfoot, Travel Channel's Weird Travels: "Bigfoot", History Channel's MonsterQuest: "Swamp Stalker", The Wild Man of the Navidad, Destination America's Monsters and Mysteries in America: Texas Terror - Lake Worth Monster, Animal Planet's Finding Bigfoot: Return to Boggy Creek and Beast of the Bayou.