Posted by: Craig Woolheater on April 26th, 2006
Last Sunday, the Longview News-Journal ran an article about Jefferson, TX and the events that are held there.
Jefferson is the home of the annual Texas Bigfoot Conference. I am working on a permanent Texas Bigfoot museum in Jefferson.
There are some in town who have questioned why Jefferson has to promote ghosts and Bigfoot. IF it draws tourists to town, why question it.
Last year, Jefferson's mayor, Ned Fratangelo declared the 3rd weekend in Jefferson "Texas Bigfoot Weekend".
This year, the event will be held the weekend of October 13-15. See you there!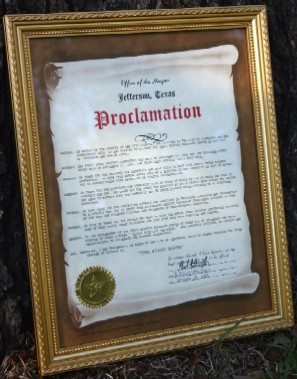 Office of the Mayor
Jefferson, Texas
Proclamation
Whereas, on behalf of the members of the City Council, the citizens of the city of Jefferson and the surrounding area, we are pleased to welcome the Texas Bigfoot Research Center to the city of Jefferson and Marion County.
Whereas, the first Texas Bigfoot Conference was held on September 15, 2001 and the inaugural event being held on September 15, 2001, and being held annually since that date.
Whereas, we thank you for choosing our community and East Texas to host your annual Texas Bigfoot Conference. We hope this annual event will be a blessing to our community as well as assist you in accomplishing your objective of species documentation,
Whereas, we thank you for providing our community with an event of which we can be proud and that is uniquely our own. We thank you for being the catalyst by which people from across the nation are able to witness what our community has to offer through media coverage or by firsthand knowledge.
Whereas, we also thank you for exhibiting courage and foresight in providing education and information on a subject that has at times been disparaged despite firsthand eyewitness accounts of some of our own esteemed citizens and neighbors of unimpeachable character.
Whereas, we thank all of the people who help to make the annual Texas Bigfoot Conference possible, some of whom travel great distances and take time away from families and careers.
Whereas, to the researchers of the Texas Bigfoot Research Center we thank you by declaring the third weekend of every October "TEXAS BIGFOOT WEEKEND," and encourage citizens, businesses and organizations to celebrate the weekend accordingly.
Now, therefore, I Ned Fratangelo, as Mayor of the city of Jefferson, Texas do hereby proclaim the third weekend in October as,
"TEXAS BIGFOOT WEEKEND"
About Craig Woolheater
Co-founder of Cryptomundo in 2005. I have appeared in or contributed to the following TV programs, documentaries and films: OLN's Mysterious Encounters: "Caddo Critter", Southern Fried Bigfoot, Travel Channel's Weird Travels: "Bigfoot", History Channel's MonsterQuest: "Swamp Stalker", The Wild Man of the Navidad, Destination America's Monsters and Mysteries in America: Texas Terror - Lake Worth Monster, Animal Planet's Finding Bigfoot: Return to Boggy Creek and Beast of the Bayou.