Posted by: Craig Woolheater on November 5th, 2007
Riverside man on the trail of Bigfoot

Daniel Perez lives in a tidy, two-story home on a quiet Riverside side street, far from the deep, dark backwoods where his real interest walks.

Or doesn't, depending on what you believe.

By day, Perez toils as a licensed union electrician. But his life's work is as a dogged researcher and investigator, hot on the hard-to-follow trail of Bigfoot.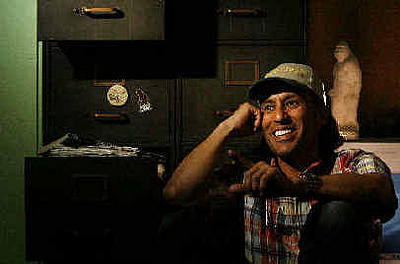 Caitlin M. Kelly / The Press-Enterprise
Riverside resident Daniel Perez says he believes there may be more than 100,000 of the Bigfoot creatures in North America today but concedes that any such figure is a "guesstimate" at best. The creatures are also known as Sasquatch.
"It's an ongoing investigation," says Perez, 44, who has spent more than 20 years in his pursuit of the legendary creature.

Perez is editor and publisher of the monthly print and online newsletter Bigfoot Times and co-founder of the Center for Bigfoot Studies, both of which he operates from an upstairs study at his home that is packed with files and artifacts.

He is quoted widely in articles and books on Sasquatch, as the hirsute biped is more commonly known in Canada. He even coined some of the phrases that became part of the Bigfoot lexicon, including the term "Bigfooter" to describe devotees.

But perhaps Perez's biggest claim to Bigfoot fame is as an expert on what is known in Sasquatch circles as "the Patterson-Gimlin film."

The roughly minute-long 16-millimeter film was shot at Bluff Creek in Northern California in 1967. The film — in which a large, hairy creature turns to face the camera before striding off into the woods — is the most well-known footage and is upheld by many as proof of Bigfoot's existence.

Perez's booklet on the film, "Bigfoot at Bluff Creek," is often cited as the "bible" on the subject.

On Oct. 20, he served as keynote speaker at a conference in Willow Creek, celebrating the 40th anniversary of the filming by Roger Patterson and Bob Gimlin.

"Daniel is a very dogged investigative researcher," said Jeffrey Meldrum, an associate professor of anatomy and anthropology at Idaho State University. Meldrum has written extensively on the evolution of primates and authored a recent book on Sasquatch.

"His forte is a penchant for detail. In his investigations he leaves very few loose ends."

So how does a well-respected Bigfoot expert come to live in the Inland area, not exactly a hotbed of Sasquatch sightings?

It started with a movie, Perez says.

He was 10 when he first watched "The Legend of Boggy Creek," a documentary-style movie about a Bigfoot-like creature.

"I just became hooked," says Perez, a wiry fellow with long, black hair under a Bigfoot Times baseball cap. "I never grew out of it."

Perez, who dropped out after a few months at Humboldt State University, is a self-taught researcher.

He has spent more than two decades researching the creature and investigating purported sightings.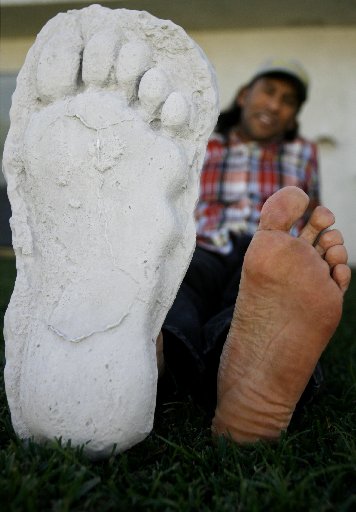 He has journeyed to sites of Bigfoot spottings throughout the Pacific Northwest, in Georgia and Ohio and as far afield as Australia.

Perez has debunked false claims and defended what he believes to be solid evidence.

But he has never seen Bigfoot himself.

The closest Perez has come to a sighting are two tracks he found — the first in Hemet in 1980 and the second near Mt. Whitney a few years later.

Perez came across the Hemet tracks after he responded to reports of Bigfoot sightings in the area. In the woods near a creek, he found a 17-inch footprint.

"That was the first track I saw, and I was like, 'It's real!' " he said.

Since then, Perez has corresponded regularly with other researchers and with Bigfoot buffs.

In his study, two metal filing cabinets are filled with newspaper clippings, photographs and artifacts. Three bookshelves brim with texts on Bigfoot, cryptozoology and other topics. Plaster casts of Sasquatch and its footprints abound, and photos of Perez with notable researchers are alongside family pictures.

Perez acknowledges that little is known about Bigfoot, despite decades of reported sightings and research.

He says he believes the creatures may have come to North America via a prehistoric ice bridge. They might be descendants of a giant ape that once roamed throughout Asia.

Perez believes Bigfoot is a nocturnal creature that shuns contact with humans.

He believes there may be more than 100,000 of the creatures in North America today but concedes that any such figure is a "guesstimate" at best.

Perez takes heart, however, in the fact that skeptics have been unable, despite several attempts, to successfully duplicate the footage from the Patterson-Gimlin film using a man in a monkey suit as the subject.

He says he will continue on the trail of Bigfoot, investigating incidents such as the photographs shot in September by a hunter in the woods of Pennsylvania that some Bigfooters say could depict a young Sasquatch.

And Perez holds out hope that one day, he will have his own sighting.

"I think about it all the time," he said.Gregor McGavin
The Press-Enterprise
100,000 Bigfoot in North America sounds on the VERY high side.
According to the IUCN redlist, there are only 30,000 to 50,000 cougars/mountain lions/panthers in North, South and Central America.
About Craig Woolheater
Co-founder of Cryptomundo in 2005. I have appeared in or contributed to the following TV programs, documentaries and films: OLN's Mysterious Encounters: "Caddo Critter", Southern Fried Bigfoot, Travel Channel's Weird Travels: "Bigfoot", History Channel's MonsterQuest: "Swamp Stalker", The Wild Man of the Navidad, Destination America's Monsters and Mysteries in America: Texas Terror - Lake Worth Monster, Animal Planet's Finding Bigfoot: Return to Boggy Creek and Beast of the Bayou.