Posted by: Craig Woolheater on January 8th, 2012
I come to you with a heavy heart to share the saddest kind of news.
Monica Rawlins, probably my very best friend in the world, has tragically lost her only son, 17 year old Riley, on Saturday evening.
Riley Rawlins passed away from injuries suffered from being hit by a woman running a redlight as Riley was crossing the street.
Riley wasn't a Bigfooter, per se. He was a member of a Bigfoot research family and the greater Sasquatch study community, nevertheless.
Riley was well known to TBRC members from attending group meetings with his mom and sister, Gillian.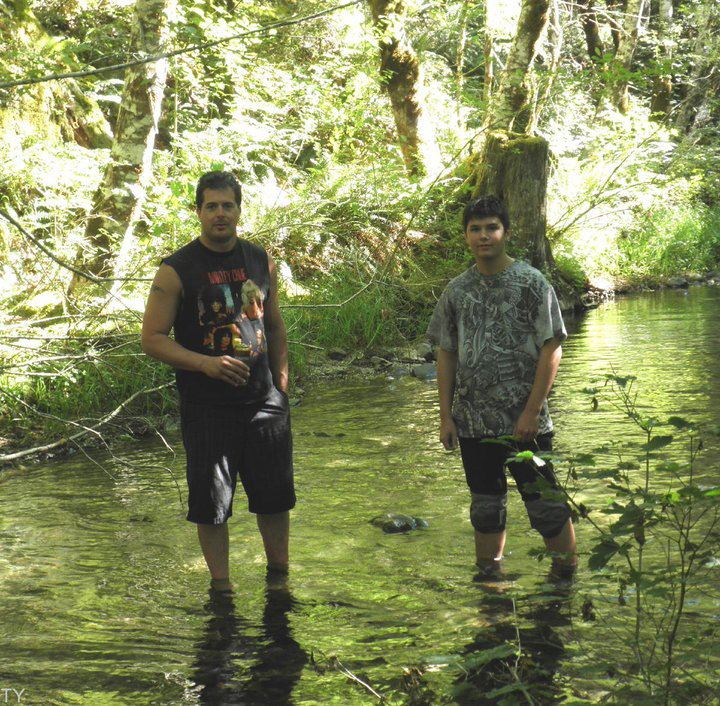 Riley, on the right, with Bart Cutino.
Riley also attended a West Coast Bigfoot expedition with his mom and other Bigfooters in 2010.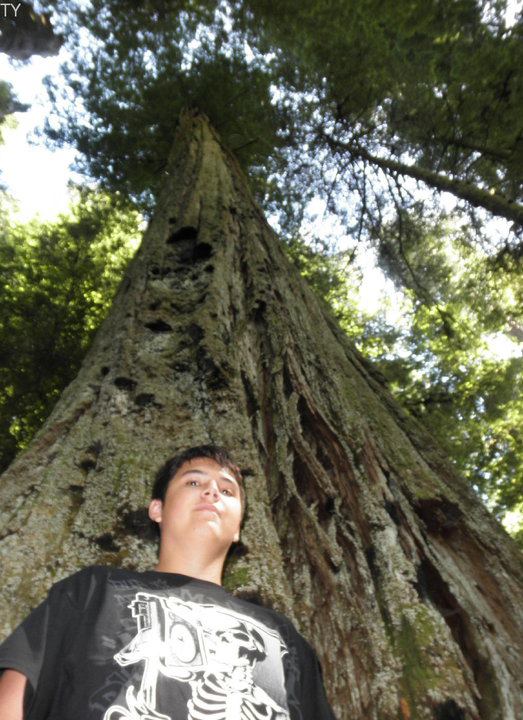 Riley in the Redwoods. Photo Tom Yamarone.
Riley was to celebrate his 18th birthday next month. He planned to join the Marine Corps after graduating high school. He was a good kid who left this world far too soon.
Please join with us here at Cryptomundo in contributing to a memorial fund in Riley's honor by making a donation in whatever amount you are able using the donation button in the top right corner of the website.
++++++
He did but float a little way
adown the stream of time;
with dreamy eyes watching the ripples play,
or listening to their chime.
His slender sail
scarce felt the gale;
he did but float a little way,
and, putting to the shore,
while yet 'twas early day,
went calmly on his way,
to dwell with us no more.
No jarring did he feel,
no grating on his vessel's keel;
a strip of yellow sand
mingled the waters with the land,
where he was seen no more;
O stern word, Nevermore!
Full short his journey was; no dust
of earth unto his sandals clave;
the weary weight, that old men must,
he bore not to his grave.
He seemed a cherub who had lost his way
and wandered hither; so his stay
with us was short; and 'twas most meet
that he should be no delver in earth's clod,
nor need to pause and cleanse his feet
to stand before his God.
–Anonymous. Poem in The Children's Anthology (1941), ed. William Lyon Phelps (1865-1943)
All proceeds will be given to Monica to help this young family's expenses in this trying time.
God speed Riley!
About Craig Woolheater
Co-founder of Cryptomundo in 2005. I have appeared in or contributed to the following TV programs, documentaries and films: OLN's Mysterious Encounters: "Caddo Critter", Southern Fried Bigfoot, Travel Channel's Weird Travels: "Bigfoot", History Channel's MonsterQuest: "Swamp Stalker", The Wild Man of the Navidad, Destination America's Monsters and Mysteries in America: Texas Terror - Lake Worth Monster, Animal Planet's Finding Bigfoot: Return to Boggy Creek and Beast of the Bayou.