Posted by: Craig Woolheater on October 24th, 2005
Stomp! Shout! Scream! is a movie about an all-girl rock band on tour in 1966. "Somehow" there van breaks down in a southern beach town. From what I can tell from the trailers available online, it looks like a globster washes up on the beach. When the local constables investigate it, one of them gets pulled inside the debris by the skunk ape and pulled limb from limb. Sounds like this movie stinks worse than the debris that washed up on shore.
The movie premiered last Friday night at the Austin Film Festival. Fortunately, or unfortunately considering your propensity for bad movies, it shows again Tuesday night at the Dobie at 9:30 pm. It would be worth it just to go to the Dobie, which is a great theater. Each of its four auditoriums have a unique theme– Egyptian, French Tudor, Gargoyle Gothic and Space-Age Art Deco. The theater is named for Texas folklorist J. Frank Dobie, who in 1924 compiled in the Texas Folklore Society publication Legends of Texas the story of the Wild Woman of the Navidad.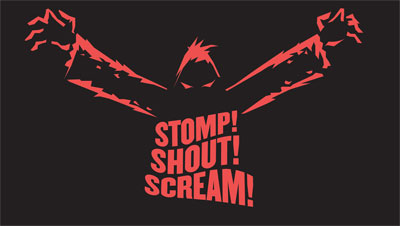 The synopsis of the film from The Austin Film Festival website:
"This beach party rock 'n' roll monster movie set in 1966 features an all-girl garage band and the legend of the Skunk Ape. Tragedy interrupts the Violas' Florida tour. Their car breaks down, their money runs out, and a mysterious, malodorous creature terrorizes the tiny town where the girls are stranded. Dashing local mechanic Hector falls for lead singer Theodora, but which will destroy their emerging love first, the dark secret from Theodora's past, or the murderous Skunk Ape? Stomp! Shout! Scream! is the inventive feature-film debut of Jay Edwards, producer/editor of Aqua Teen Hunger Force."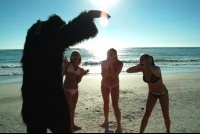 About Craig Woolheater
Co-founder of Cryptomundo in 2005. I have appeared in or contributed to the following TV programs, documentaries and films: OLN's Mysterious Encounters: "Caddo Critter", Southern Fried Bigfoot, Travel Channel's Weird Travels: "Bigfoot", History Channel's MonsterQuest: "Swamp Stalker", The Wild Man of the Navidad, Destination America's Monsters and Mysteries in America: Texas Terror - Lake Worth Monster, Animal Planet's Finding Bigfoot: Return to Boggy Creek and Beast of the Bayou.