Posted by: Craig Woolheater on January 17th, 2008
Behold the Skunk Ape at the 5th Annual Psychotronic Film Festival in Savannah, Georgia on Friday night, January 18 at 7:30 PM.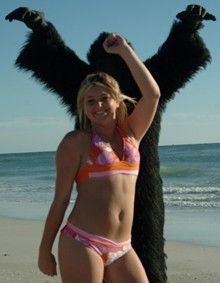 StompScreamShout.com Photo
The film, Stomp! Shout! Scream!, has been profiled here on Cryptomundo in the past.
For all those who failed to crack Sundance this year, take heart. There are other ways to get your film in front of an appreciative film festival audience.

Far from the hoopla of the 23rd Annual Sundance Film Festival in Park City, Utah (January 17th-24th), there is the 5th Annual Psychotronic Film Festival in Savannah, Georgia (January 14th-25th). One event takes over a whole town, the other occupies a single coffee shop known as the Sentient Bean.

For writer-director Jay Edwards, a producer on the Adult Swim TV series, Friday's screening at the Psychotronic event of his 2005 B movie homage Stomp! Shout! Scream! is but the latest in a very long line of appearances for a film that is three years old and out on DVD since the spring of 2006. Welcome to life on the other side of snowy SWAG and overflow chalet parties.

Stomp! is a loving tribute to 1950's monster movies wrapped around the legend of the Skunk Ape, basically the Florida Everglades' equivalent to Bigfoot lore. In the shadow of Cloverfield, a movie inspired by producer J.J. Abrams' love of monster movies as a boy, this more modest flick is also Edwards tip of the hat to the guy-in-a-costume monster movies of the 1950's that he grew to know and admire.

The $100,000 production was originally inspired by the Atlanta band Catfight, who went on to provide soundtrack music, and follows the adventures of an all-female garage band whose bus breaks down in the general swamp neighborhood of the Skunk Ape. Edwards will be selling DVDs at the Savannah showing and no doubt hoping once again to prove the mantra of his Director's Statement: "good storytelling and escapist entertainment need not be mutually exclusive."FilmStew Staff
Stomp! Shout! Scream!, a 2005 independent film that combines all the fun of a monster movie with an old-fashioned beach party flick. Director Jay Wade Edwards will be in Savannah to present his film and answer questions after its screening on Friday, Jan. 18.

Connect recently caught up with Jay Wade Edwards to discuss independent filmmaking, especially his own first feature film, Stomp! Shout! Scream! The film is about a murderous rampage by a Florida Skunk Ape (a really smelly Southern Bigfoot) on a Georgia barrier island.

The film has been screened at film festivals across the country. Awards it has won include Best Feature Film at both the Toofy Film Festival and The Magnolia Independent Film Festival, and it was nominated for Best Cinematography and Best Set Design at the B-movie Film Festival.

By day, Edwards is a television and film editor for Turner Broadcasting. He is the senior editor and producer of the wildly popular animated series Aqua Teen Hunger Force and Squidbillies for Cartoon Network's Adult Swim and the feature film Aqua Teen Hunger Force Colon Movie. His credits also include documentaries for CNN and TBS and Cartoon Network's Space Ghost Coast to Coast.

On nights and weekends, Edwards creates his own films. He wrote, directed, and edited three short science fiction films — Mountain of Terror, Day of Dread, Project: Tiki Puka Puka and Esta Noche We Ride! — known collectively as The Monster Trilogy.

Edwards coproduced and edited Y'all Come! The Hell Hole Swamp Festival, a 2002 documentary about Jamestown, S.C., home of the annual Hell Hole Swamp Festival. Stomp! Shout! Scream! is Edwards's first feature film. It premiered at the Austin Film Festival in October 2005.

Set in 1966, it tells the story of an all-girl garage rock band who are on tour when their car breaks down in a small, Southern town, where they have several run-ins with a Florida Swamp Ape. To say any more would just spoil the fun.

Have you ever been to Savannah?

Jay Wade Edwards: It's been 10 years at least. I have several friends who live down there.

Why did you decide to make a full-length feature?

Jay Wade Edwards: I decided to upgrade — I wanted to be challenged. I've been working full-time at Turner Broadcast for 13 years, so I make movies at night and on the weekends. I knew if I was going do something like this, I'd have to live with it for a long time.

I decided to make a rock-and-roll movie, so I watched every rock-and-roll movie I could find, my favorites being the 60s beach party movies. They were awful moves, but they have a great look and lots of music.

How did this film become a monster movie?

Jay Wade Edwards: A beach movie is innocent and effervescent and lots of fun, so I decided to combine it with a monster movie. I combine all the things I love about those movies.

My real inspiration as I was watching all those movies is that in all the beach party movies, Annette Funicello gets pissed off at Frankie Avalon. I have some friends in a band called Cat Fight and they offered to do original songs for the film.

So the whole project began with the music?

Jay Wade Edwards: The first step of production before we went into filming and even the casting was to record the songs. They also did a cover of an old 60s song called Go-Go Gorilla.

Why is the villain a Skunk Ape?

Jay Wade Edwards: I grew up in Florida. My dad would take us fishing in the Everglades. We'd go down for a week, and he was always trying scare us with the Skunk Ape.

He'd say, "See that indentation in the sand? The Skunk Ape did that!" or "See how that tree hangs over the water? The Skunk Ape did that." He's not a legend, he's real.

Has your father been an influence on your filmmaking?

Jay Wade Edwards: My father is movie fan. His favor is Soylent Green. We watched a lot of Star Trek together.

I grew up just loving music. Music is the first inspiration for anything I write. I realized I always make movies about novelty songs. I loved Ray Stevens' songs as a kid. Those songs have a lot of humor.

Why a Southern setting for your film?

Jay Wade Edwards: In my mind, they're stranded in a little town near Savannah. It's one of those little beach towns, like Sullivan's Island.

I've lived in Atlanta for 15 years, and there aren't enough movies about the South, not that are authentic to any degree. I wanted give it a real location.

I combined all the things I love — garage rock, girls in short skirts, monsters. I tried to write a story that sucks you in and sweeps you along and has characters you care about.

What is the most difficult thing about making films?

Jay Wade Edwards: You spend every dime you have and every waking moment to make the film, then pray it gets into a nice film festival. At that point, you're less than halfway done with the film.

Your whole life is being marketed so you can make another film. I started writing this film in Jan. 2003, and it was shot in Oct. 2004. Eighteen months later I had raised the money and worked like a dog. It was shot on 35 mm film with a full film crew. In October 2005, it premiered at the Austin Film Festival. Three years later, I'm still hawking the film, still trying to make a distribution deal. It's been shown at the Sweet Onion Film Festival in Walla Walla, Wash., so I can say it's been screened everywhere from Atlanta to Walla Walla.

How do you raise the money to make a film?

Jay Wade Edwards: About the time I was writing the script. Aqua Teen Hunger Force started being released on DVD. In addition to producing and editing Aqua Teen, I helped produce and edit the DVDs as a second job.

In addition to writing scripts and investing, I was working seven nights a week and weekends on the DVD project. Between investing, selling some stocks my grandmother gave me, I raised $100,000 to shoot it, most of it being my own money. That was just to get it shot. It cost probably another $75,000 for marketing and getting ready for distribution.

I'm an editor at heart. I wrote the script and raised the money so I could get to the editing. I was editing something all my own, what I really live for.

You do have a really cool day job. What's it like to work on ATHF and Squidbillies, which is set in Georgia?

Jay Wade Edwards: The real magic of Squidbillies to me is that they cast actors who are real Southern people. In the editing of the show, it makes it a real challenge because since they aren't actors, they tend not to have the range real professional actors have.

There will be 20 new episodes of Squidbillies and 10 new episodes of Aqua Teen beginning Sunday, Jan. 19. The new season will start just two days after the screening in Savannah.

I understand one of the actors in the film is originally from Savannah.

Jay Wade Edwards: Mary Kraft, who plays Carol, the bass player, is from Savannah. All of the characters in the film are named after my grandparents.

Theodora, the lead character, is named after my grandmother, who also is in the film. She's the lady on the beach who has her transistor radio turned up too loud. She'll be 90 next month. Her full name is Theodora Viola, so that's why the band is called The Violas.

So what are you going to tell people at the screening in Savannah?

Jay Wade Edwards: The first question is usually, "Are the actresses really playing those instruments?" I have to explain that we cast the best actresses we could find, then taught them how to play. I think it's better than the original beach party movies.

Cynthia Evans, who plays Jody the drummer, was a miracle and it's remarkable that we found a great actress coordinated enough to play the drums. We got really lucky. Evan Lieberman is also a producer of the film because he added so much. He's a musician and taught the girls all how to play.

In Savannah, I'll have DVDs and sound tracks for just $10. They're packed with extras — commentary, behind-the-scenes stuff.

What will your next project be?

Jay Wade Edwards: I have the whole story laid out. I have scenes in my head. Stomp! Shout! Scream! is the first of a Skunk Ape quadrilogy.

In the next film, we would follow Theodora to the Midwest in the 1970s. She's kind of a drunk and in a Country-Western band. It would be in the style of the animal-attacks movies. The third one is five years later, in the late 70s. Theodora is in LA, she's a heroin addict and in a punk rock band.

The fourth one is set in space and Theodora is on a spaceship. The Skunk Ape chases her around the ship.

Had this Skunk Ape made me a bunch of money, I'd have already made the second movie by now. It was five years ago this month that I started writing it, and I'm still looking for a distributor.

I've only made back one percent of what I put into it, but that isn't why I made it. You don't make a monster, rock-n-roll, beach-party movie to make money. You make it because you have to.Connect Savannah Online
About Craig Woolheater
Co-founder of Cryptomundo in 2005. I have appeared in or contributed to the following TV programs, documentaries and films: OLN's Mysterious Encounters: "Caddo Critter", Southern Fried Bigfoot, Travel Channel's Weird Travels: "Bigfoot", History Channel's MonsterQuest: "Swamp Stalker", The Wild Man of the Navidad, Destination America's Monsters and Mysteries in America: Texas Terror - Lake Worth Monster, Animal Planet's Finding Bigfoot: Return to Boggy Creek and Beast of the Bayou.