Posted by: Craig Woolheater on October 19th, 2008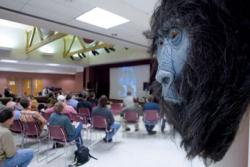 Bigfoot fans attend conference

By Benjamin Fort, News Messenger
Sunday, October 19, 2008

Things seemed a little hairy over at Jefferson High School Saturday, and it wasn't because of the Bulldogs' shut-out of Queen City Friday night.

Skeptics and believers from around the country, gathered at the 2008 Texas Bigfoot Conference to listen to experts discuss the possibility of Bigfoot, the legendary giant, hairy beast that has reportedly been sighted all over the world.

Visitors and Bigfoot experts alike were greeted with smiles by vendors at the event organized by the Texas Bigfoot Research Conservancy.

Archaeologist Kathy Strain was on hand with her new book, "Giants, Cannibals & Monsters," as was Roberts Swain with top-notch Bigfoot cartoon artwork and many others.

Jefferson High School students lent a hand by organizing a raffle to benefit their prom and providing lunches and snacks to benefit other school goals.

"I'm just here to enjoy the show," said Susanne Elleman, who made the drive from Oklahoma. Ms. Elleman thinks Bigfoot's existence is possible.

"It may exist, it may not, but it's pretty interesting stuff," she said.

In the scientific community, Bigfoot's existence would mean that an ape was native to North America, according to Alton Higgins, a biology professor at Mid-America Christian University in Oklahoma City, Okla.

Though no DNA of such an animal has ever been produced, Higgins said, word-of-mouth, footprints, photographs and film provide evidence for the creature's existence.

"I'm not aware of any DNA evidence. There have been lots of attempts at it, but they've come up with results that are too fragmentary to really be of any good," he said.

Higgins' presentation focused on image analysis to disprove costumes, hoaxes and misidentifications. Costumes will have a tubular look with wrinkles and baggy lower legs, unlike the muscular appearance of apes.

He said Bigfoot would have arm-leg symmetry, unlike some photos that show the creature with very long arms.

"Most of the stuff that we see doesn't turn out to be credible," Higgins said during his presentation.

The most famous film evidence, he said, is the 1967 Patterson-Gimlin Film. "There are several other possible film or video examples of evidence, but none of them are really conclusive," he said.

The film can be seen on YouTube.com, and shows an ape-like creature walking through a stream.

The creature walks upright like a man and has the mannerisms of a human being.

"I'm 100 percent convinced it exists," Higgins said. "I've found tracks myself. I have a sighting of a creature that I can't explain as being any other animal.

"I'm a wildlife biologist. This is what I used to do for a living. I'm a biology professor now, but I've had a sighting of what I thought was a huge, upright, ape-like creature," he said.

Other Bigfoot evidence came from TRBC researcher Daryl Colyer's discussion of the conservancy's sighting database.

The database lists what the TBRC considers viable sightings and are marked on a map of the Ark-La-Tex-Oma region.

Colyer said the range of reported sightings changes seasonally.

In the hotter months, the sightings are closer together in the shade of the woods and spread out during the colder months.

The conference also included discussions by author and researcher David Paulides, forensic artist Harvey Pratt, Dana Holyfield, Ms. Strain, Swain and Sasquatch behavioral expert Dr. Henner Fahrenbach.

A fund-raising dinner featuring Dr. Jeff Meldrum concluded the annual conference.

Meldrum discussed his recent expedition to China in search of the Yeren, the Chinese culture's version of the Bigfoot legend.
About Craig Woolheater
Co-founder of Cryptomundo in 2005. I have appeared in or contributed to the following TV programs, documentaries and films: OLN's Mysterious Encounters: "Caddo Critter", Southern Fried Bigfoot, Travel Channel's Weird Travels: "Bigfoot", History Channel's MonsterQuest: "Swamp Stalker", The Wild Man of the Navidad, Destination America's Monsters and Mysteries in America: Texas Terror - Lake Worth Monster, Animal Planet's Finding Bigfoot: Return to Boggy Creek and Beast of the Bayou.