Posted by: Craig Woolheater on April 4th, 2007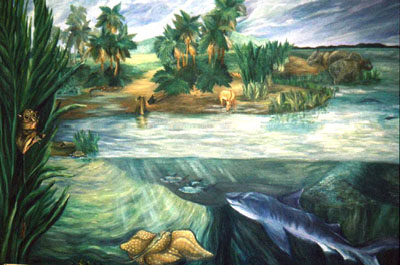 Eocene Texas coastal habitat. Art by Abby Salazar.
New primate species found in 42 million-year-old Laredo fossils

Something old is now something new, thanks to Lamar University researcher Jim Westgate and colleagues. The scientists' research has led to the discovery of a new genus and species of primate, one long vanished from the earth but preserved in the fossil record.

Westgate is a professor of earth and space sciences at Lamar and a research associate in the Vertebrate Paleontology Laboratory, Texas Natural Science Center, University of Texas-Austin. He and his research colleagues, Dana Cope, professor of anthropology, College of Charleston, and Chris Beard, curator, Vertebrate Paleontology Section, Carnegie Museum of Natural History, announced their discovery at the annual meeting of the American Association of Physical Anthropologists in Philadelphia, Pa., today (Thursday, March 29).

Molar, pre-molar and incisor teeth from the new primate genus and three other new primate species were recovered from 42 million-year-old tropical, mangrove palm swamp deposits of the Eocene age Laredo Formation exposed in Lake Casa Blanca International State Park in Laredo.

The association of primate fossils with the skeletal remains of oysters, sharks, rays, giant aquatic snakes and crocodiles, along with mangrove palm fruits and pollen, indicates that the middle Eocene shoreline of the Gulf of Mexico lay 150 miles inland of its present position, Westgate said.

The team is preparing detailed manuscripts describing the new Omomyid primates. One of the spoils of discovering a new species is the opportunity to give it a name. The formal name of the new genus, which means "primate of the coastal lagoons", will be released at publication time, Westgate said.

Omomyids (members of the extinct taxon Omomyidae) lived 34 to 50 million years ago during the Eocene Epoch and were one of two groups of known Eocene primates. The other, adapids, were more lemur-like. Fossils of these Eocene primates have been found in North America, Europe, Asia, and Africa. The Eocene primates are the earliest known primates.

Omomyids had large eye orbits, long grasping fingers and short snouts. Tiny creatures, they weighed less than a quarter of a pound. These extinct creatures with large eyes were probably nocturnal. Like most modern primates, the omomyids used their long fingers for climbing. The tibia and fibula were fused which could mean that they were adept at leaping between tree branches. They had small mouths, and it is likely that insects were a part of their regular diet.

The presence of a diverse primate community with four species living on the Texas coast during late middle Eocene time is significant because at that time primate diversity in the northern interior of North America had diminished greatly because of global climatic cooling and uplifting of the Rocky Mountains, Westgate said. The tropical environment on the Texas coast appears to have allowed primates to thrive locally while their relatives in the continental interior faced near extinction.

Lamar University, the University of Texas Geology Foundation, the National Geographic Society and the Geological Society of America provided funds for field excavations in Laredo.Lamar University
A diverse primate community in Texas?
The Hell you say!
This is what Discovery News reported about this exciting primate fossil find here in my home state of Texas.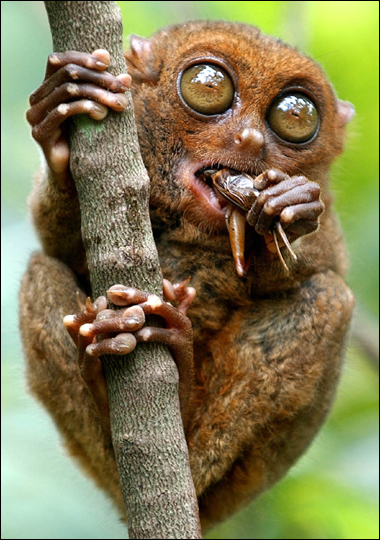 Researchers studying ancient primate fossils in south Texas say the animals' closest living relative would probably be the tarsier primate, pictured here in the Philippines.
Ancient Primates Thrived in…Texas?

April 3, 2007 — A team of anthropologists said their study of South Texas fossil deposits revealed evidence including ancient teeth that shows the area was home to numerous types of primates 42 million years ago.

Lamar University Professor Jim Westgate and two colleagues announced the discovery of three new genera and four new species of primates based on their examination of material removed from Lake Casa Blanca International State Park near Laredo and the Mexican border.

Westgate said the Laredo area was a coastal lagoon during the stage of geologic history known as the Eocene Epoch, which was when primates were becoming extinct on much of the continent.

"It was kind of the last gasp for the primates in North America," said Westgate, a professor of earth and space sciences.

The researchers presented their findings last week at a conference of the American Association of Physical Anthropologists in Philadelphia.

Westgate and others are still studying the 15 tons of material excavated from the park's fossil deposits between 1983 and 1996. Researchers recovered 1,800 mammal teeth, including 50 from primates.

Dana Cope, a co-author of the study and associate professor of anthropology at College of Charleston in South Carolina, compared the teeth with other primate teeth from the same era. He said the newly discovered teeth, which measure about 4 millimeters, were not from known primates.

"This is a very important locality," Cope said. "Not much is known about Eocene mammals outside the Rocky Mountains."

Cope said the genus the researches have focused on likely had a diet of leaves and foliage and weighed about two pounds. Its closest living relative would probably be the tarsier primate that lives in the Philippines.

Westgate said one of the project's main goals was to excavate the material and protect it for study and documentation.

"We knew way back we had something important," he said. "Now we're targeting areas that needed more research."Discovery News
About Craig Woolheater
Co-founder of Cryptomundo in 2005. I have appeared in or contributed to the following TV programs, documentaries and films: OLN's Mysterious Encounters: "Caddo Critter", Southern Fried Bigfoot, Travel Channel's Weird Travels: "Bigfoot", History Channel's MonsterQuest: "Swamp Stalker", The Wild Man of the Navidad, Destination America's Monsters and Mysteries in America: Texas Terror - Lake Worth Monster, Animal Planet's Finding Bigfoot: Return to Boggy Creek and Beast of the Bayou.