Posted by: Craig Woolheater on December 17th, 2006
On the Primarily Primates website, it was announced that on last Wednesday, December 13th, Oliver was moved from his cramped living quarters to a much larger enclosure.
For the last ten years, he has been housed in a 5′ X 12′ X 8′ circus transport cage. His new enclosure is 20′ X 40′.
You can read more about Oliver here on Cryptomundo. And you can read about the plight of Primarily Primates here on Cryptomundo.
And on Friday, December 15th, the Austin Chronicle published a lengthy piece on Oliver and the legal wranglings at Primarily Primates.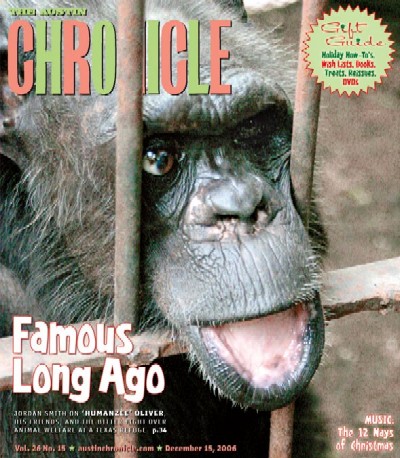 Famous Long Ago
Legendary "Humanzee" Oliver, his friends, and the bitter fight over animal welfare at a Texas refuge
BY JORDAN SMITH
Austin Chronicle
December 15, 2006
Once upon a time, everyone knew Oliver.
The exact date and place of his birth aren't certain – records suggest he was born in 1962, somewhere in the Congo – but by the time he was about 10 years old, he'd become an international celebrity. Stories about those years, especially in the mid- to late Seventies, paint Oliver as a jet-setter – flying around the world, making a string of television appearances, most memorably on The Ed Sullivan Show and extensively on Japan's Nippon TV. There were credulous stories about his favorite pastimes: watching TV while smoking a cigar and drinking sherry, or making, serving, and drinking coffee.
Oliver is a chimpanzee – perhaps the most storied of all the Old World simians to achieve celebrity status. As for so many celebs, it was Oliver's appearance that transformed his life, setting him on a course that would, inevitably, bring on his subsequent downfall. More so than his primate brethren, Oliver appeared – and still does (his legend remains fodder for any number of Web sites) – almost human. His head is smaller and less hairy than that of a typical chimp, his nose smaller and more defined, his ears more pointed. Most dramatically, Oliver walks upright, like a man – knees locked, powerful shoulders straight and broad, arms swinging at his sides – instead of hunched forward and using his hands and arms, like most chimps. It was his bipedal walk, combined with Oliver's other humanoid features, that earned him the dubious honor of being dubbed the "Humanzee" – promoted as the "Missing Link" between man and ape.
He was brought to the U.S. by animal trainers Frank and Janet Burger, who ran a chimp, dog, pony, and pig show that was once a regular feature on The Ed Sullivan Show and at Radio City Music Hall, Janet Burger told the San Antonio Express-News in 1996. But in 1976, when Oliver had reached sexual maturity and became difficult to handle, the Burgers sold him to New York lawyer Michael Miller. Miller began promoting Oliver as a possible chimp-human "hybrid," taking him to Japan and exhibiting him on TV and stage. Before long, Oliver was sold again – and again – to a string of West Coast animal trainers, who variously exhibited him as a freak.
Oliver's celebrity soon ran its course. In 1989, he was sold, one last time, to the infamous research-animal broker Buckshire Corp. of Pennsylvania, where he languished for seven years in a small metal cage, receiving little human or animal interaction. There were dozens of chimps housed at Buckshire, spending years in tiny cages or leased out for dangerous research projects. In 1995, an undercover investigation by the animal rights organization People for the Ethical Treatment of Animals produced a surreptitiously recorded video showing some 40 cruelly housed chimps at Buckshire. Under pressure, Buckshire eventually agreed to retire a dozen chimps who became known as the Buckshire 12. At the time, retiring research animals, and especially chimpanzees, was uncommon, and there were (and remain) few options for housing and caring for chimps or other primates. Chimps are humans' closest biological relatives; they're strong, social, highly intelligent, and in captivity can live nearly 60 years. But providing adequate care is complex and expensive.
It appeared that Oliver and his Buckshire brethren had finally received a reprieve when Wallace Swett, founder of Primarily Primates Inc., the now nearly 30-year-old northwest Bexar Co. animal sanctuary, contacted Buckshire to say that the Leon Springs refuge would be willing to provide permanent retirement for the Buckshire 12. In 1996, the chimps were transported to Texas, and Oliver, then in his 30s, walked upright from his transport cage into a larger enclosure at PPI. "He's been dragged around and exploited for over 20 years, but this is his final retirement," Swett told the Express-News, calling Oliver a "national treasure." "He'll never go into research or on exhibit again."
Read the entire article on the Austin Chronicle website here:
Famous Long Ago
About Craig Woolheater
Co-founder of Cryptomundo in 2005. I have appeared in or contributed to the following TV programs, documentaries and films: OLN's Mysterious Encounters: "Caddo Critter", Southern Fried Bigfoot, Travel Channel's Weird Travels: "Bigfoot", History Channel's MonsterQuest: "Swamp Stalker", The Wild Man of the Navidad, Destination America's Monsters and Mysteries in America: Texas Terror - Lake Worth Monster, Animal Planet's Finding Bigfoot: Return to Boggy Creek and Beast of the Bayou.