Posted by: Craig Woolheater on February 14th, 2007
On Saturday, a mysterious foot was found at a Virginia landfill. Initially, it was thought to be a human foot.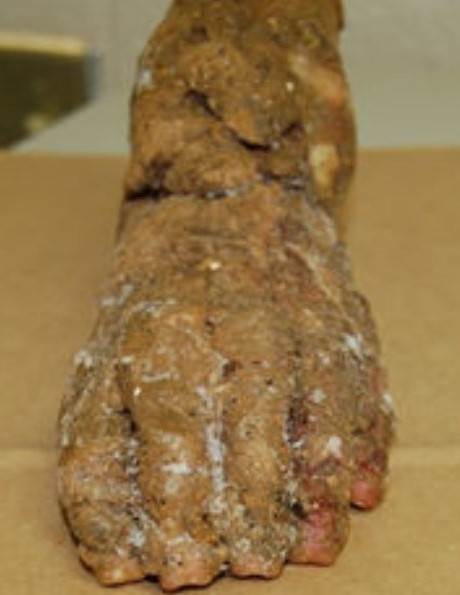 However, after being examined by Virginia state medical examiners, it was determined to be of an "apelike species."
It turns out that the foot found Saturday in Spotsylvania County was not that of a human, authorities said today.

The search through 127 tons of trash at the Livingston Landfill ended abruptly this morning after the foot was cleaned and X-rayed by state medical examiners.

They determined the foot was not human and was possibly that of an apelike species, said Spotsylvania Sheriff Howard Smith.

The medical examiner's office called the sheriff's office this morning, Smith said. They did not say if it was a monkey or some other type of ape-type species-only that it wasn't human.Bill Freehling
The Free Lance-Star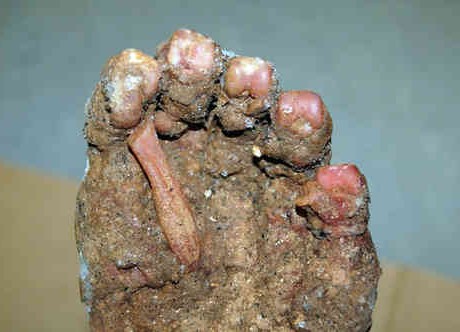 Speculation has been that it is human, bear and even Bigfoot. Truth be told, to me, it does bear (pun intended) striking resemblance to Tom Biscardi's Hand of Unknown Origin.
Comments regarding the identity of a hand of unknown origin.
The Free Lance-Star sent photos of the foot to several people who study primates. All disagreed with the state medical examiner's office's conclusions.

Experts at the University of Wisconsin-Madison said it looks more like a human foot than that of an apelike species, according to Jordana Lenon, a spokeswoman for the primate center on campus. She said it's difficult to tell without handling it. A colleague of Lenon's said it looked like the skinned-out hind-foot of a bear.

April D. Truitt of the Primate Rescue Center in Kentucky, also said the foot looks more human. She said it's too big to be a monkey; it's more the size of a gorilla, chimpanzee, bonobo or orangutan. She said its bone structure leaves the chimp as the only possibility.

"This certainly doesn't resemble the foot of any chimp I've ever met, and I've encountered hundreds in the past two decades," Truitt added.

William Dranginis of Manassas has a more unusual opinion–he believes the foot could be that of Bigfoot. He heads the Virginia Bigfoot Research Organization and has been passionately studying the elusive creature for more than 10 years.Bill Freehling
The Free Lance-Star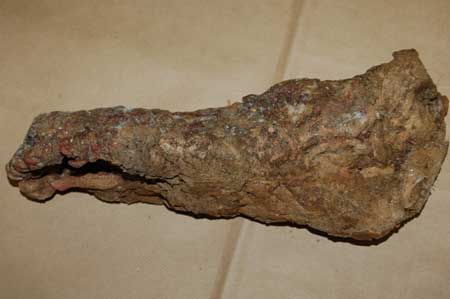 What do the readers of Cryptomundo think?
Story Update:
See Update: The Foot of Bigfoot?
About Craig Woolheater
Co-founder of Cryptomundo in 2005. I have appeared in or contributed to the following TV programs, documentaries and films: OLN's Mysterious Encounters: "Caddo Critter", Southern Fried Bigfoot, Travel Channel's Weird Travels: "Bigfoot", History Channel's MonsterQuest: "Swamp Stalker", The Wild Man of the Navidad, Destination America's Monsters and Mysteries in America: Texas Terror - Lake Worth Monster, Animal Planet's Finding Bigfoot: Return to Boggy Creek and Beast of the Bayou.