Posted by: Craig Woolheater on March 24th, 2007
My good friend and colleague, Dr. John Bindernagel was quoted in the Victoria Times Colonist regarding the preponderance of Bigfoot videos showing up on the internet and the damage they do to serious scientific research into the Sasquatch phenomenon.
The newspaper has even apparently confused myself with the person who submitted the video, from the first sentence in the article below. I believe that they are calling me out as the "Texas man, a self-styled Bigfoot researcher." I did not post the video to youtube, I merely reposted it here at Vancouver Island Bigfoot Video to share with the readers of Cryptomundo.
Sasquatch sighting stories move to Internet

NANAIMO — The creature known as Bigfoot or Sasquatch is covering a whole new territory — the Internet — after a Texas man, a self-styled Bigfoot researcher, has posted a video he claims to have taken near Tofino last July.

But John Bindernagel, a biologist and the author of the book North America's Great Ape: The Sasquatch, is concerned that the ability to post videos by anyone claiming to have footage of a Sasquatch will damage efforts to do genuine scientific research into the phenomenon.

"For me the Internet is a mixed bag — it's easier to report a sighting, but it's not vetted very well," he said.

Reports of seeing the creature on Vancouver Island go back many years. Bindernagel, from the Comox Valley, claims to have found footprints in Strathcona Park near Mount Washington.

In 2005, he told the Nanaimo Daily News that there have been about 100 sightings on the Island since 1850.

In the same time, there have been about 400 sightings in B.C., a number he thinks is low due to people's fear of being mocked.

Though evidence has yet to surface proving Bindernagel's claim that the Sasquatch is real, he thinks a scientific approach could prove its existence. He is now working on a second book about the phenomenon to argue why scientists should give it serious consideration.

Bindernagel said fuzzy films on the Internet do not help him making that argument.CanWest News Service
Below is a photo of John and the cast of one of the tracks he found in Strathcona Park. Photo was taken at the 2001 Texas Bigfoot Conference.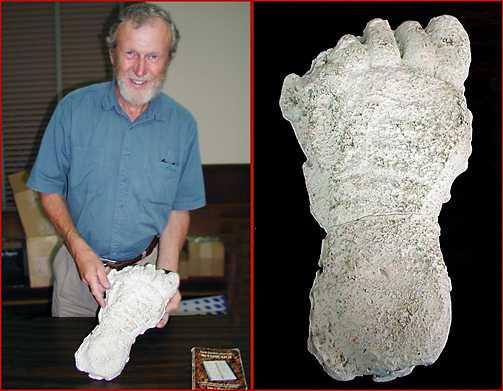 Once again, here is the video. It is entitled "Strange Humanoid Encounter."
About Craig Woolheater
Co-founder of Cryptomundo in 2005. I have appeared in or contributed to the following TV programs, documentaries and films: OLN's Mysterious Encounters: "Caddo Critter", Southern Fried Bigfoot, Travel Channel's Weird Travels: "Bigfoot", History Channel's MonsterQuest: "Swamp Stalker", The Wild Man of the Navidad, Destination America's Monsters and Mysteries in America: Texas Terror - Lake Worth Monster, Animal Planet's Finding Bigfoot: Return to Boggy Creek and Beast of the Bayou.